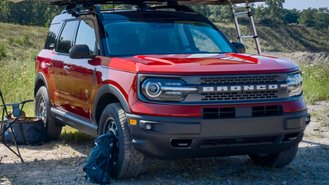 Ford is planning to raise Bronco Sport prices yet again as part of a slew of price hikes set to take effect on June 1st. According to a letter sent recently to dealers, the wildly popular small SUV will see price increases of up to $540. The changes come amid a growing inventory shortage that has already led to higher prices.
In base form, the 2021 Bronco Sport will see a $395 increase in base price from the current MSRP of $28,315 including destination. At the same time, the better-equipped Big Bend's price is going up by $400, with the largest increases on the Outer Banks and Badlands trims at $540. This isn't the model's first price hike.
Late last year, Bronco Sport prices went up by $160, a modest amount that caught our attention around the time some dealers were marking up Bronco Sports by as much as $10,000. Starting next week, the Bronco Sport's MSRP will be as much as $700 more expensive than when it was first introduced to the public.
Ford is calling this a "competitive pricing action," a term often used by the brand to justify mid-year price increases. Interestingly, a closer look finds that Ford plans to raise prices on nearly a dozen models. In the case of the platform-sharing 2021 Escape crossover, the model's starting price is set to go up by $670.
If you're looking to "lock in" current pricing, now could be a good time to buy. Ford's best deals on the Bronco Sport involve a combination of $500 in bonus cash plus 0% APR for up to 48 months. That said, we're seeing strong indications that the automaker plans to significantly scale back incentives next month.
We think it's worth noting that prices for the larger Bronco aren't affected. That said, we've found that lease prices for the Bronco can be cheaper than the Bronco Sport. While Bronco Sport residual values aren't terrible, a big difference in incentives can make it over $100/month more expensive to lease than an Escape.