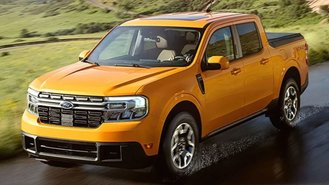 The Ford Maverick has been a huge hit since it launched last year. The small pickup truck gets nearly the same fuel economy as compact cars, while having a versatile bed. With an MSRP that sneaks under $20,000, the Maverick's price is another reason for its massive success. Now that the Maverick has established itself in the small pickup truck segment, Ford could be looking to add a performance model to the lineup.
Ford Authority spotted a Maverick prototype testing at one of Ford's test tracks and it looks much different from the pickup truck that's currently on sale. At the front, the spy photos captured a grille that's hiding a large intercooler. Along the side, the prototype of the pickup is wearing camouflaged fender flares and wheels, which point toward upgraded components. The most interesting feature of the prototype, though, is at the back. The truck that Ford is testing has exhaust outlets that are integrated into the bumper.
Even when equipped with the available turbocharged 2.0-liter four-cylinder engine, the current Ford Maverick comes with one exhaust outlet that's neatly tucked away under the body. This dual exhaust system is a large difference from the current model and is the most obvious sign of improved performance.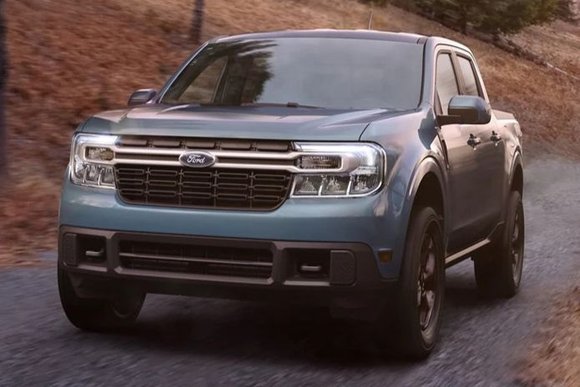 Currently, Ford offers the Maverick with a hybrid 2.5-liter four-cylinder engine with an electric motor and a turbocharged 2.0-liter four-cylinder engine. The base hybrid is rated at 191 horsepower, while the turbocharged engine produces 250 horsepower. Since the Maverick shares the same platform as the Lincoln Corsair, Ford Authority believes that there's a good chance Ford could utilize the turbocharged 2.3-liter four-cylinder engine in the SUV. In the Corsair, the engine is rated at 295 hp.
If this is the case, the Maverick would be getting a large performance upgrade. Ford has been hard at work on coming out with high-performance versions of its vehicles, like the Explorer ST and Edge ST. It makes sense for Ford to come out with an ST version of the Maverick. Going forward, we could even see a Tremor version of the pickup that's aimed at off-roading.
Either way, the prototype makes it look like Ford is getting ready to expand the Maverick lineup, which is a good thing for consumers.
Build & Price Your Ford Maverick
Pictured: 2022 Ford Maverick