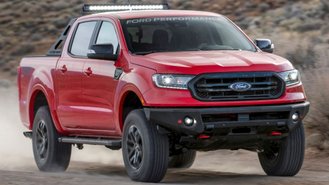 To get vehicles out to dealerships, Ford will begin shipping vehicles that are missing semiconductor chips to dealers around the country later this year, reports The Detroit Free Press. The vehicles can't be sold to consumers, so this move is only being used to bolster dealer parking lots that are empty from the lack of new vehicles. Once dealers receive back-ordered chips, they'll have to insert them into components that customers have selected and complete the purchase.
"We're discussing this idea with our dealers so we can gauge interest. We're assessing and it's still very fluid," Ford spokesman Said Deep told the outlet. "This is a scenario we are exploring and we want to be prepared should we decide to implement, which is why we are talking to our dealers now."
Ford won't be shipping unsellable vehicles to dealers until they sign on with the plan. If everyone plans to move forward, deliveries would begin before the end of the year. While the thought process behind this decision sounds odd, dealers have the necessary tools and know-how to make extensive repairs, so installing semiconductor chips shouldn't be too much of a hassle. The outlet states that Ford would hold on to the title until dealers officially complete the vehicle.
As Deep claims, this move helps Ford get vehicles to customers quicker. Customers can check out vehicles on a dealer lot and all they have to do is wait for the chip to be installed. After that, they can take delivery of the vehicle. This is a quicker process than having Ford install the chips and then deliver the vehicle to the dealer. Additionally, this process will require Ford to make another quality inspection after the vehicle has left the factory.
We're sure dealers will love this plan. Having vehicles in stock will get people to come to dealerships. Additionally, we're sure some buyers will be willing to pay above MSRP for a vehicle, leading to high profits. Speaking of profits, automotive dealers have posted, surprisingly, high profits amid the chip shortage. Some dealers may even require customers to place a deposit on a vehicle in stock, despite it being unfinished.
The outlet reports that the Ranger will be the first vehicle to be shipped to dealers unfinished. Ford is still working out details of how the process will work, so other vehicles haven't been named yet. The automaker is exploring adding the F-150 to the list, as the brand still has thousands of F-Series trucks sitting on parking lots across the country.
Earlier this month, reports indicated that Ford was on track to ship thousands of F-Series trucks that were delayed by the chip shortage. The report stated that the automaker received a new supply of chips and was eager to get trucks sitting in lots in Missouri, Michigan, and Kentucky to dealerships. The report didn't say anything about shipping finished vehicles to dealers, so Ford may have seen that there was more interest in the Ranger and is prioritizing that vehicle.
Consumers have been waiting a long time to get their hands on an F-Series truck. To give consumers some incentive to continue waiting, Ford recently gave F-Series buyers an Amazon E-Gift Card. The automaker also doubled its "Retail Order Bonus Cash Certificate" to $1,000 in June.
During the chip shortage, vehicle ordering has gained momentum. The process involves consumers ordering a vehicle with the specific features, trim, and color they want straight from the factory. The catch is that they have to wait a few months for the vehicle to be delivered.