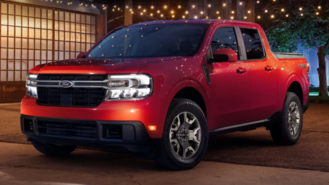 You don't have to be a rocket scientist to tell that Ford has a massive hit on its hands with the compact Maverick. Pickup trucks have gotten too big, too expensive for the majority of consumers. Smaller in size than the Ranger, featuring an efficient hybrid engine, and carrying a starting price of $21,490, the Maverick is a pickup truck for urbanites and consumers that don't need to tow 7,000 pounds of cargo. Ford confirmed to The Drive that all of the 2022 Maverick hybrids have been accounted for and that it has stopped accepting orders until the second half of 2022.
Originally, the outlet got the scoop on the situation through a post on the Maverick Chat forum. In the post, a user, citing an acquaintance that sells Fords, stated that the option to order a Maverick with the standard engine disappeared from the dealer system. Speculation then led them to believe that mid-2022 would be the earliest date the order books would reopen for the vehicle. This information was then confirmed to the outlet by a Ford spokesperson.
"Due to high demand, we are now fully reserved on Maverick Hybrid," Dawn McKenzie, Ford's truck communications manager, told the outlet. "Ordering will reopen next Summer for the 2023 model year."
Seeing Ford's order books for the Maverick Hybrid be full is impressive, though the automaker thought it would happen earlier. Originally, Ford thought the order books for the Maverick would be filled by early November. So, it's a month behind schedule. With the chip shortage, we don't think that the schedule is too far behind. Some consumers will be sad to hear that they'll have to wait until next year before they can place an order for a Maverick Hybrid, but the more expensive, more powerful turbocharged four-cylinder engine with all-wheel drive is still readily available.
Earlier this October, Ford announced that deliveries of the Maverick Hybrid would be delayed to January 2022. The issue was because of the truck's emissions certifications. The delay explains why the Maverick Hybrid was not available at launch. Back in October, Ford stated that it would begin shipping the truck in December, with deliveries set to begin in January. Ford did not say how many customers have reserved one of the models.
Find the Best Truck Deals in Your Area
Pictured: 2022 Ford Maverick