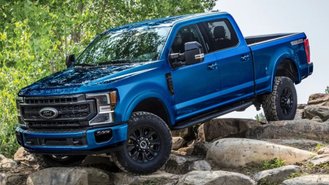 Ford was one of the first automakers to come out with a high-performance truck that was purpose-built to go off-roading with the F-150 Raptor. Now, the trend is far more commonplace with GMC, Chevrolet, Ram, and Jeep all offering their own versions of highly powerful and incredibly capable trucks that prioritize being able to traverse rough terrain at high speeds.
Since the original F-150 Raptor's launch, Ford has expanded the high-performance model to the Ranger and Bronco, leaving us to question whether the Super Duty lineup will ever be available with a high-performance Raptor model. Never say never, because Ford Authority claims that it's a possibility.
The outlet spoke with Aaron Bresky, Ford Super Duty engineering manager, to see if Ford ever plans to come out with a Super Duty Raptor. "There's nothing limiting this as far as I'm concerned, and we're always listening to our customers," Bresky told the outlet. "If customers are saying 'we like the Tremor but where is the Super Duty Raptor?' we listen to our customers."
At the moment, customers looking for the most capable Super Duty in the lineup will be shown the Tremor. Ford added the Tremor Off-Road Package to the Super Duty lineup for the 2020 model year, offering it on both the F-250 and F-350 models. For the 2023 model year, the package adds a locking rear differential, a front limited-slip differential, off-road tires, 18-inch wheels, upgraded suspension, heavy-duty skid plates, an updated exterior design, a Rock Crawl mode, and Ford's Trail Control off-road cruise control system. The features result in mega-sized trucks that are highly capable off-road.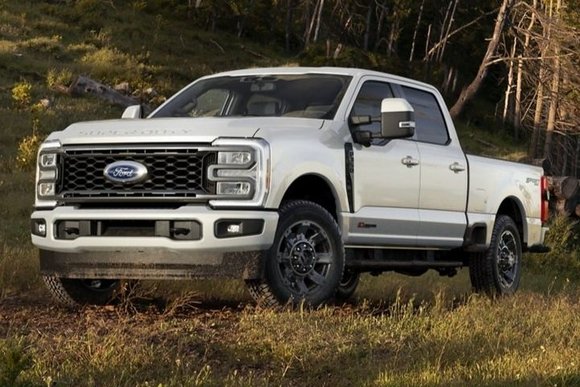 While the Tremor Off-Road Package brings a lot of off-roading capability, it's nowhere near as capable as the F-150 Raptor or the new Raptor R. So, Ford has plenty of room to expand the Super Duty's off-roading ability. The main problem would be ensuring that the Super Duty retains its incredible capacities.
As Ford Authority points out, the issue with trying to come out with a Super Duty Raptor is that the truck will still have to be able to tow and haul heavy loads, which is the main purpose of the Super Duty line. We're sure some shoppers would be willing to give up some towing and payload capacity to have extra off-roading capability, but the Super Duty Raptor will still have to have a wide gap compared to the F-150 Raptor, which can tow up to 8,200 pounds and has a payload capacity of 1,400 pounds.
We don't think a Super Duty Raptor makes a lot of sense, but then again, a large high-performance pickup truck that can fly across sand dunes like the F-150 Raptor doesn't make a lot of sense, but it jump-started an entire segment. While other automakers offer off-road packages for their respective heavy-duty trucks, no one has something like a Raptor competitor. Ford could kick off a new class of heavy-duty trucks, but it sounds like it's waiting for customer feedback to do so.
Source: Ford Authority