Ford owners with a vehicle that has the automaker's latest and greatest Sync 4 infotainment system are about to get a "Ford Power-Up" software update that brings a more seamless Amazon Alexa experience. The update will bring Amazon's Alexa virtual assistant to 700,000 units of Ford's hottest vehicles in the U.S. and Canada later this fall. The vehicles getting the update include the Bronco, Edge, Mustang Mach-E, F-150, and Super Duty.
"Ford Power-Up" is just a fancy name that the automaker has come up with for its wireless software update technology. Any time Ford pushes a wireless software update out to its vehicles, the automaker will call it a "Ford Power-Up." Over time, Ford says it will use the software updates to "help enhance features, quality, experiences, capability, and convenience," according to a press release. In addition to adding features, Ford believes these updates can reduce the number of trips owners will have to make to the service department. Most updates will be invisible to owners, while ones that require a reboot will allow owners to schedule them at a convenient time.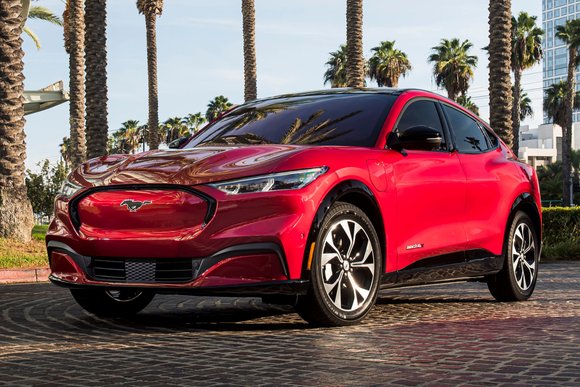 The upcoming update will bring Amazon Alexa compatibility for free for three years in what the brand says is the industry's largest rollout of the tech to date. With the new feature, Ford customers will be able to control things like their smart home devices, find the closest parking spot, or place a call through Amazon Alexa. Owners can also take advantage of the FordPass skill for Alexa, which allows them to start their car, unlock the doors, check how much gas or electricity is left, and more from their home.
Ford introduced Amazon Alexa into its vehicles in 2017, but the latest collaboration between the two companies is the largest one to date and brings far more advanced features. While Ford will bring Amazon Alexa compatibility as a built-in feature to 700,000 vehicles before the end of this year, the automaker believes that millions of its vehicles will have the feature in the next few years. The plan is part of Amazon and Ford's partnership to work together to come out with more enhanced features and new commercial services over the next six years.
Software updates like this were unusual for Ford, but have since become far more common. The automaker claims that it's pushed Ford Power-Up updates to the 2021 F-150 and Mustang Mach-E over the past few months. Soon, Mustang Mach-E owners will receive Sketch through a wireless update that will allow passengers to draw and play simple games on the touchscreen. Another major update will bring BlueCruise – Ford's hands-free highway driving system – to properly equipped F-150 and Mustang Mach-E models.
Over-the-air updates have become the new norm for the automotive industry, especially when it comes to all-electric flagship models. Unfortunately, for consumers, a lot of automakers are using wireless updates to introduce new subscription plans for features. BMW is the most notable automaker to charge consumers extra for features that can be accessed through an over-the-air update.
In 2019, the German luxury brand decided to cancel its $80-a-year fee for Apple CarPlay after facing harsh backlash. More recently, the automaker introduced its high-beam assist feature, which consumers can access via a software-enabled subscription. The issue is that automakers are starting to pack vehicles with all sorts of features from the factory, but requiring consumers to pay to use them in pricey subscription models or in absurd one-time fees.
As Morgan Stanley's automotive analysts told Bloomberg, "We believe the industry is in the early innings of a profound shift to securing revenue measured in data, derived from its hardware 'real estate' and monetized through a range of recurring business models." While these business models will bring in a lot more money, they could serve to draw privacy-conscious consumers away.