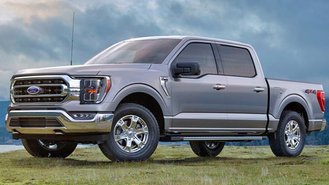 After months of having thousands of Ford F-Series pickup trucks sitting idly by waiting for semi-conductor chips, the American automaker is finally ready to ship the vehicles to dealers with an incredibly low supply of trucks on hand. The Detroit Free Press reports that Ford received a new supply of chips recently, allowing the automaker to get trucks sitting in lots in Michigan, Missouri, and Kentucky to dealers.
"We're working to get chips into F-Series pickups and get them out to dealers. That's our first priority," Erich Merkle, U.S. sales analyst at Ford, told the outlet. "We'll see our inventories improve. It'll take time but stock will gradually start to improve the second half of the year. According to Merkle, Ford's inventory at dealers is at "record lows."
Ford didn't provide any official figures on how many trucks it will be able to get off of lots, but this is good news for everyone. Earlier this May, viral photos showing thousands of unsellable F-Series trucks surfaced. The picture was taken at a 30-acre lot at Kentucky Speedway, revealing the extensive number of trucks Ford couldn't sell because of the shortage.
During the delay, Ford provided consumers with a few forms of compensation. Buyers waiting for their F-Series received a special link to redeem a $100 Amazon E-Gift Card earlier this month. Last month, Ford doubled its discount on cars that weren't in stock. Before June, Ford's Retail Order Incentive Program included a $500 incentive to purchase a new vehicle not in stock. Ford doubled the incentive to $1,000 through July 6 with a Retail Order Bonus Cash Certificate.
The chip shortage has proved to be a major issue for automakers. Nearly every automaker has had to adjust production of certain vehicles or temporarily close factories because of the chip shortage. For Ford, the American automaker cut production of the Explorer, Lincoln Aviator, Mustang, F-150, Bronco Sport, Transit, Expedition, Escape, Lincoln Corsair, Super Duty, and Edge. Initially, Ford decided to continue partially assembling vehicles and park them while waiting for chips. Starting on July 12, the Dearborn Truck plan where the F-150 is built will run two crews for three weeks.
Source: Detroit Free Press