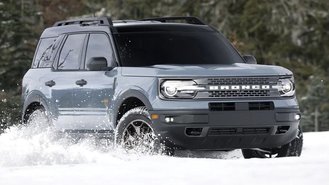 Ford will begin stocking up to 80% fewer configurations of some of its most popular models. According to a letter sent to dealers last week, the initiative is being called "inventory reframing," and will involve reducing dealer inventory in order to focus on the brand's highest-selling configurations leveraging regional sales data.
The new region-specific approach to reducing stock complexity will begin with "late January / early February wholesale allocation," based on Ford's letter. The company says "stock order configurations are being reduced on average between 70% - 80% from the total amount of configurations available" on 9 models:
Ford says inventory reframing will have the following benefits for dealers: "faster days to turn," "reduced aged inventory," "lower floorplan expense/improved profitability," and "more predictable forecasting / easier inventory management." Allocations will be based on "regional stock order guides" from sales data and dealer input.
For car shoppers, this will undoubtedly result in fewer variations of the models above when visiting a dealer. While consumers will still be able to order any configuration, this could push the brand closer to an order-based selling model. Last year, Ford doubled its order discount to $1,000 to help get customers to wait.
If you were hoping to buy a car with a specific set of options from dealer stock, this could make it considerably more difficult to do so. However, this could be an easier pill to swallow amid an ongoing inventory shortage. For now, it's unclear how inventory reframing will affect retail prices on popular cars, trucks, and SUVs.
Basing stock on regional sales isn't a new concept. For example, Toyota dealers have historically relied on regional vehicle allocations. However, there appears to be a strong likelihood that models like the Ford F-150 with especially complex options packages could become vehicles that consumers will have to order.