The global semiconductor chip shortage continues to affect the production of Ford's most popular vehicles. The American automaker is flooded with so many orders for the rugged SUV that it's struggling to keep up with demand. To prioritize getting Broncos to existing order holders, Ford will stop accepting new retail orders for the 2022 Bronco on March 7. If you want to get a 2022 Bronco, you'll want to hurry to convert your reservation into an official order.
We're not surprised to see Ford close the order books for the 2022 Bronco. The automaker is struggling to get vehicles to early reservation holders and because of the high number of reservations that it continues to receive, is looking at the impossible task of fulfilling all of its orders before switching gears to starting production of 2023 models. Ford claims that the decision to pause new retail orders for Broncos is temporary and will open again later this year for the 2023 model year.
Recently, pictures of hundreds of Broncos sitting on a parking lot near Willow Run Airport surfaced. Ford claims that these vehicles are all waiting on semiconductor chips before they can be shipped out to reservation holders. Ford claims that it's aiming to have all of the vehicles on the parking lot "updated" in the next 90 days. We're not sure what "updated" means, but we believe that it means they'll get the necessary chips to be completed. The goal of 90 days is a hopeful one, as chip availability could see that figure grow.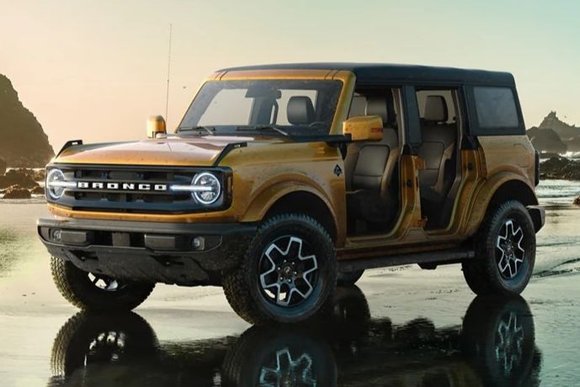 The way Ford is prioritizing orders could also see some reservation holders wait longer than others. The automaker claims that Bronco orders are being prioritized based on when they were reserved, part availability, the specific configuration, and "the number of vehicles your dealer receives." The latter could really screw over reservation holders that placed their order with a small dealer.
For reservation holders that want to get their Bronco as soon as possible, Ford has a few tips to share. Ford recommends shoppers consider dropping the Trailer Tow package and the Mold In Color hardtop roof. Broncos without the Trailer Tow package and hardtop roof have a better chance of being built sooner.
Orders for the high-performance Bronco Raptor are expected to begin shortly after Ford stops accepting orders for the 2022 Bronco. Consumers that have a current reservation for a Bronco will receive priority to order a Raptor. The upcoming Bronco Everglades model is only being offered to existing Bronco reservation holders.
Not only do reservation holders have to wait longer than expected for their Bronco, but they're also looking at potentially paying above MSRP for their SUV because of dealer markups. Ford notes that dealers are independent franchises and can set whatever price they want for vehicles. The automaker recommends that shoppers agree to a selling price with a dealer by signing a purchase agreement when placing an order for a Bronco.
Build & Price Your Ford Bronco
Pictured: 2022 Ford Bronco