Acura has finally announced pricing for the all-new 2023 Integra. When the compact hatchback goes on sale later this June, it will start at $31,895 (prices include destination). That makes the Integra $3,580 more than the Honda Civic Si, which is closely related to the upscale Acura, and $7,650 less than the larger TLX.
The sub-$32,000 price tag for the 2023 Integra includes a standard continuously variable automatic transmission (CVT). Acura does offer the Integra with a six-speed manual transmission, but it's paired with A-Spec and Technology Packages, which bump up the vehicle's price considerably. An Integra with a manual transmission will cost you $36,895 or $5,000 more than a base model. The silver lining is that the manual transmission doesn't cost more than a similarly equipped Integra with a CVT.
With the Civic Si coming with a manual transmission as standard, the Integra with a six-speed manual actually costs $8,580 more when compared to similarly equipped cars. Both come with a turbocharged 1.5-liter four-cylinder engine that makes 200 horsepower and 192 pound-feet of torque. Where the two vehicles differ is in design and feature content.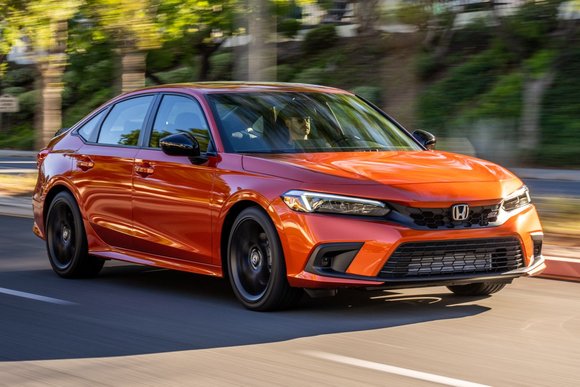 The Integra features a far more upscale design than the Civic Si and comes with more available features. The sporty hatchback is available with a nine-inch touchscreen, a 16-speaker ELS audio system, a wireless charging pad, a 10.2-inch digital instrument cluster, a head-up display, and adaptive suspension.
The 2023 Acura Integra is an interesting vehicle. It's an upscale compact car with an eye toward driver enjoyment. There aren't too many small, luxury cars that are fun to drive on sale these days. The Mazda3 costs $24,115, Volkswagen Golf GTI is priced at $31,270, and Subaru WRX starts at $30,600. On the luxury side of things, the BMW 2-Series Gran Coupe starts at $37,295, Audi A3 costs $35,895, and the Mercedes-Benz A-Class carries a starting price tag of $35,000.
Compared to mainstream compact vehicles, the Integra is slightly more expensive, while it's far more affordable than other luxury vehicles. Unless you need all-wheel drive, which the Integra doesn't have, the Acura represents good value compared to German rivals.
See the Best Acura Deals & Incentives
Pictured: 2023 Acura Integra (Top), 2022 Honda Civic Si (Middle)