While other automakers are ditching sedans as quickly as possible, the Genesis G80 proves that there's a lot of life left for the body style. Elegant, supremely comfortable, and high-tech, the G80 doesn't really put a foot wrong. Not content with the G80 lineup that's currently available, the South Korean luxury brand recently unveiled a new Sport trim that comes with special exterior elements and rear-wheel steering.
Before we dive into the aesthetic changes, here's what we know the G80 Sport will come with. The midsize sedan will come with Genesis' Rear Wheel Steering system, which the automaker claims will increase driving stability. Usually, on other vehicles, rear-wheel steering helps a vehicle's maneuverability at low speeds and increases stability at high speeds. Rear-wheel steering isn't new, BMW, Porsche, Audi, Acura, Lexus, and Porsche have all offered the feature on their luxury vehicles.
Rear-wheel steering has been found on a wide range of vehicles that include pickup trucks and sports cars. For shoppers, having this feature on the G80 Sport will make the sedan feel more agile around corners while being easier to drive. We're interested to see if Genesis has made any other changes to the G80's suspension to accommodate the system or improve handling, but the automaker's press release on the vehicle is light on any other performance upgrades.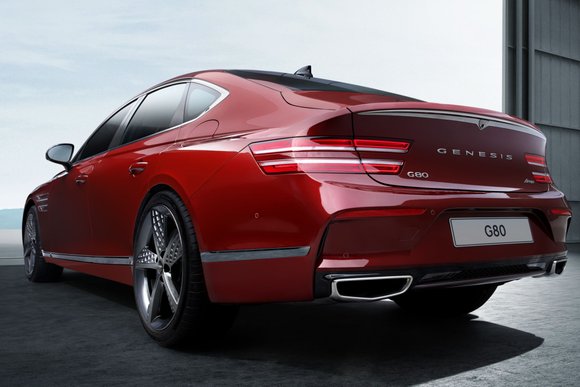 On the outside, the G80 Sport will come with a redesigned bumper that features a dark glossy chrome grille and black trim pieces around the headlights. The G80 Sport's rear end also benefits from a special bumper with an integrated diffuser and similar minor tweaks to the trim. The most noticeable difference between the new Sport trim and the other models in the lineup is its new 20-inch "dark sputtering" alloy wheels that have a gorgeous pattern. Genesis is offering black and red brake calipers on the Sport trim, too.
The interior gets a few special touches that include a three-spoke steering wheel and three new trim pieces — aluminum, carbon fiber, and a "diamond-patterned hybrid weaving pattern." Consumers can also choose between a diamond or V-pattern design for the G80 Sport's quilted seats, while new color options have been added to the cabin.
Genesis hasn't revealed what kind of engine the G80 Sport will come with or when the new trim will go on sale. Furthermore, we don't even know if the trim will be available in the U.S. Genesis came out with a global press release for the vehicle, but its U.S. site doesn't have any information on the sedan. We hope to see the G80 Sport make it to the U.S., but with the focus being on SUVs like the Genesis GV70 and GV80, we wouldn't be surprised to hear that the vehicle won't be sold in America.