Highly capable off-road SUVs have become incredibly popular because of the COVID-19 pandemic, and Honda is looking to throw its hat into the ring with its new TrailSport subbrand. Hondas with the brand's TrailSport badge will feature a more rugged design and have improved off-roading capability, as the line marks Honda's "next chapter in its rugged light truck direction." For consumers wanting a Honda that can tackle rugged terrain, the new TrailSport models will be the way to go.
Honda hasn't confirmed which vehicles will receive the TrailSport treatment, but the first models will be tamer than future models. The first vehicles to wear a TrailSport badge will have updated styling, durable body cladding, orange interior stitching, and all-weather mats. Obviously, Honda's torque-vectoring all-wheel-drive system will be standard on the models. From Honda's description of what it will include on the models, these first few options sound pretty mild.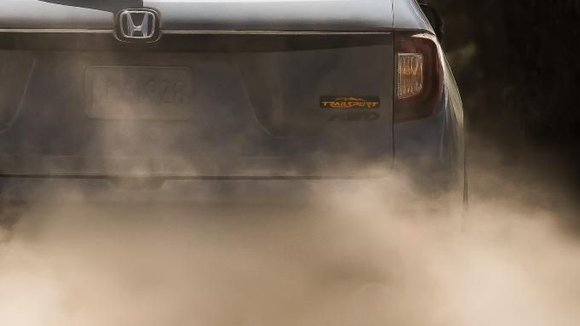 Consumers wanting more off-road capability should wait a few years, as Honda plans to increase the off-road capability of its TrailSport models over time. Future models will come with more serious upgrades such as high-performance tires, more ground clearance, full-size spare tires, underbody protection, off-road suspension, and improved all-wheel-drive systems. These vehicles sound like the real deal for people wanting to go off-roading.
Since Honda isn't ready to say what models will get the TrailSport treatment, we're left to assume that the Ridgeline, Passport, Pilot, and CR-V are high up on the priority list. Based on the sole teaser photo that Honda released, we expect the Passport to be the first SUV to get the TrailSport upgrade.
Depending on how far Honda's upgrades for the future TrailSport models go, the subbrand sounds like a competitor to Toyota's TRD, Subaru's Wilderness, Ford's Timberline, and Hyundai's XRT.
While other automakers have focused on coming out with off-roaders, Honda hasn't entered the market until now. Honda did come out with an HPD appearance package for Ridgeline earlier this year, but that's more of an appearance package that makes the pickup truck look better. The upcoming TrailSport models — the ones coming later on, anyway — sound like they'll have serious off-roading prowess. The first TrailSport model comes out this fall.