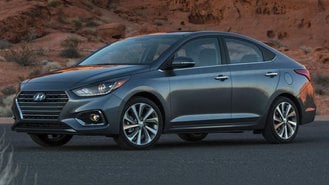 Hyundai recently announced some changes to its lineup for the 2023 model year and there are quite a few models that are being discontinued. The Hyundai Veloster N, IONIQ Hybrid and PHEV, and Accent are all being dropped. In the case of the Accent, the subcompact car is being discontinued because of Hyundai's expanded lineup of SUVs.
In its press release, Hyundai states that the Accent is getting bumped out because of "an expanded SUV lineup that includes Venue." In a move that's reminiscent of what Ford did a few years back, Hyundai will be using the Venue as its entry-level vehicle. For consumers, this represents a large increase in pricing to get into an entry-level Hyundai. The 2022 Accent starts at $17,740 (with destination), while the Venue costs $20,295.
Automakers have been cutting subcompact cars from their lineups for the past few years. The segment isn't exactly red hot, but there's plenty of competition between the competitors that still exist. Out of the seven or so options in the class, the Accent didn't do all that well in sales. In 2021, Hyundai sold 18,868 units of the Accent. The Nissan Versa (60,913 units), Chevrolet Spark (24,460 units), Kia Rio (31,362 unis), and Mitsubishi Mirage (22,743 units) all outsold the Accent.
The Accent was one of the better options in the subcompact class. It's available with a solid 7-inch touchscreen, gets up to 36 mpg combined, has a spacious interior with usable rear seats, and features solid build quality. We can't blame Hyundai for dropping the Accent, as it's just reacting to consumer interest. But it's sad to see a good vehicle go and be replaced with a larger, more expensive SUV.