While automatic emergency braking (AEB) has become a standard feature on nearly every modern vehicle sold in the United States, that wasn't always the case. In 2016, Hyundai joined forces with the National Highway Traffic Safety Administration (NHTSA) and the Insurance Institute for Highway Safety (IIHS) to make AEB standard on all of its new vehicles. The goal was to have AEB as standard equipment on all of its new vehicles by 2022. Two years ahead of schedule, Hyundai claims it has reached its voluntary goal earlier than it expected.
If we go from the exact date that Hyundai first announced the goal, which was on March 17, 2016, it's taken the automaker four years and roughly eight months to reach the objective. Now, 96% of Hyundai's lineup of vehicles has AEB as standard equipment. The Hyundai Accent, Elantra GT hatchback, and Sonata plug-in hybrid are the three main vehicles we know of that don't come with AEB as standard – hence the 96% percent figure.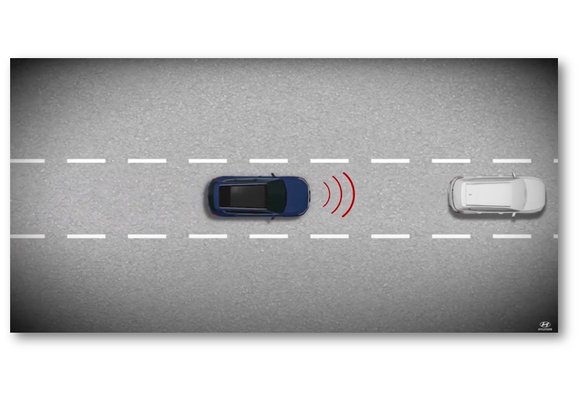 The main reason for the original goal in 2016 was to help reduce the number of accidents. At the time, the IIHS claimed that Hyundai's commitment would prevent 42,000 crashes and 20,000 injuries by 2025. Being a few years ahead of the original date should mean more saved lives.
Hyundai isn't the only automaker that's been working on making AEB standard on its vehicles. In 2015, 20 automakers set out to make AEB a standard feature on vehicles before 2022. Before the end of 2019, Audi, Mercedes-Benz, Tesla, and Volvo achieved the goal. In 2019, seven other manufactures including Honda, BMW, Toyota, Subaru, Volkswagen, Mazda, and Nissan, equipped eight out of 10 new vehicles with AEB as standard. For consumers, this means that there's a high chance that a new vehicle will come with AEB. Additionally, it also means that cars are going to be more expensive than similarly equipped models from a few years ago.
But, it also means that the cars that come with AEB are safer. While not all AEB systems perform similarly, the American Automobile Association (AAA) found that they can reduce deaths by roughly 40% during the day in a study it conducted last year. The AAA also recommends that consumers purchase vehicles that have the safety feature.