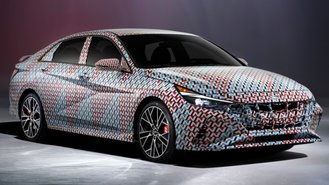 Hyundai recently showcased two new N-Line models: the Tucson and Elantra N-Lines. With these two joining the likes of the Veloster N and Sonata N-Line, the South Korean automaker will have a total of four N-Line models on sale in the U.S. shortly. While four sporty vehicles seems like a lot for a brand that once prioritized value, it's just the tip of the iceberg, as Hyundai is looking to have a total of seven N and N-Line models by the time 2022 rolls around.
Before we get into what possible N and N-Line vehicles Hyundai could be working on, let's take a quick look at what sporty vehicles the automaker currently offers. The Veloster N was the first vehicle from the automaker to be offered in an N variant. The hot hatchback was followed up by the Sonata N-Line and the Elantra N-Line, both of which will go on sale before the end of 2020. So far, that's three models. The fourth and fifth vehicles include the upcoming Elantra N and Tucson N-line, the latter was just unveiled this week.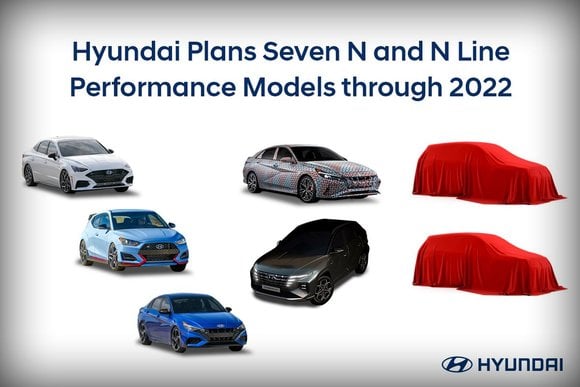 Hyundai isn't saying a lot about the other two vehicles, but we're going to guess that they're going to involve the subcompact Venue and Kona. The European version of the face-lifted Kona came out earlier this year and was joined by a sporty N-Line model. A Kona N-Line rumor has been circling around for quite some time, so we're almost certain it's going to be one of the seven N-Line vehicles.
When it comes to Hyundai's hierarchy, there's a big difference between N and N-Line models. Full-blown N models, like the Veloster N, offer the best of the best when it comes to performance from Hyundai. More powerful engines, track-ready suspension, beefy brakes, and high-performance parts are all included. N-Line vehicles aren't as sporty, offering performance parts and powerful engines, but they don't offer nearly the same amount of power or as track performance as N variants. Think of N-Line models are like a jalapeño, while N vehicles are habaneros.
The decision to add more N and N-Line models is to appeal to enthusiasts, who have seen their sporty options dwindle greatly in the past few years. It's actually a really smart idea, because enthusiasts have very few options on the market if they're looking for a new performance vehicle that's relatively affordable. By offering sporty N and N-Line models, even if they're sporty variants of SUVs, Hyundai's ensuring that it's going to be one of the few automakers to continue offering sporty vehicles.