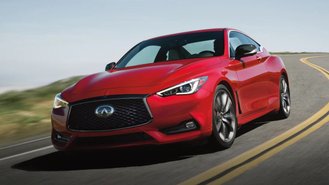 Despite all of the technology that's available in cars these days, the majority of automakers still require shoppers to purchase a new vehicle if they're looking to get the latest upgrades. Infiniti understands the pain consumers feel when they purchase a brand new car and see the same model come with new features just a year later. So, it's offering a free wireless Apple CarPlay upgrade for owners of specific Infiniti models.
Owners of 2020 and up Infiniti Q50, Q60, QX50, and QX80 models are eligible for the free wireless Apple CarPlay upgrade. The upgrade is available until March 31, 2022, and will be conducted at an Infiniti dealer free of charge.
Infiniti claims it's offering the free upgrade on its vehicles because it found that roughly 80% of luxury vehicle owners use Apple products. So, giving current owners a complimentary upgrade to the wireless system gives it a large edge over the competition that still offers wired Apple CarPlay. Compared to that system, wireless Apple CarPlay is a huge advantage. Instead of having to fumble around with cables, wireless connectivity allows you to keep your phone in your pocket or take advantage of a wireless smartphone charger while being able to use CarPlay. Wireless Apple CarPlay can be trickier to set up, but it's worth the initial hassle.
Wireless Apple CarPlay is still a fairly uncommon feature, but it is becoming ubiquitous. BMW and Hyundai were some of the first automakers to offer the feature on their vehicles. Most of the time, when automakers offer wireless Apple CarPlay, they also include wireless Android Auto. Unfortunately, Infiniti's press release doesn't say anything about wireless Android Auto compatibility. That feature may arrive later.
Check Out Infiniti's Current Lineup
Pictured: 2022 Infiniti Q60 (Top), 2021 Infiniti QX50 (Interior)