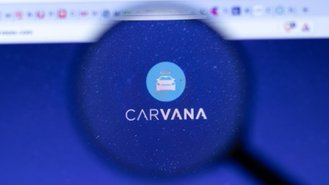 Because of the pandemic, Carvana saw its business boom. For the company, it was about being in the right place at the right time, as well as offering services that no one else could match. Carvana was one of the first companies to offer a no-contact shopping experience that could be done from home. Plus, the company really stands out thanks to its nifty car vending machines. Unfortunately, falling used car prices, the increased popularity of online shopping from traditional dealers, and the increased availability of new cars is seeing Carvana go through money at a rapid pace. The situation is so bad that Carvana could go bankrupt.
According to a report by Bloomberg, Carvana is speaking with investment bankers and lawyers about ways to manage its debt. Unnamed sources told the outlet that Carvana is speaking with advisers from Kirkland & Ellis, as well as Moelis & Co. As the outlet claims, the company is "considering possibilities while some of its largest creditors are banding together to negotiate as a bloc with the company."
Two of the larger funds include Pacific Investment Management Co. and Apollo Global Management Inc., which reportedly have around 70% or $4 billion of Carvana's unsecured debt. The two funds have signed a cooperation agreement that will last for three months, claims Bloomberg.
Carvana's stock has plunged nearly 98% over the past year, as it was trading at roughly $270 last December and is now currently trading at $4.84. The outlet claims that the company's stock has fallen because investors have concerns over Carvana's long-term prospects. The company's bonds have reportedly fallen below 45 cents on the dollar, which is an indicator that investors believe there's a high chance of Carvana defaulting, states Bloomberg. Ever since Carvana went public, the company has posted a net loss every quarter except for one.
Few companies did as well as Carvana during the height of the pandemic. While traditional car dealerships around the country closed their doors, Carvana's online buying process saw the company blossom. Because of the chip shortage and the fact that quite a few automakers halted production at their factories, new vehicles were incredibly difficult to find. Carvana had a wide range of used vehicles in stock during the pandemic, which the company could sell them at a high margin because of demand. Falling used car prices are hurting Carvana's margins, claims Bloomberg and the company has taken to cutting 1,500 jobs in an attempt to cut costs.
Predicting where used car prices are heading is difficult, since there are so many factors that go into prices. But as Bloomberg's report outlines, the company's future, at least for the moment, is tied directly to the used car market. Right now, analysts and investors have a bleak outlook for the company. Seth Basham, an equity analyst at Wedbush reportedly cut his 12-month forecast for Carvana's share price to $1. "These developments indicate a higher likelihood of debt restructuring that could leave the equity worthless in a bankruptcy scenario, or highly diluted in a best case," wrote Basham in a note to clients.
Source: Bloomberg (Subscription Required)