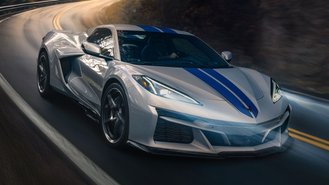 Chevrolet has officially entered the segment of electrified high-performance vehicles with the 2024 Corvette E-Ray. The highly anticipated sports car arrives with a hybrid powertrain and all-wheel drive (AWD). While the E-Ray may have some Corvette fans up in arms, the hybrid powertrain gives the Corvette E-Ray some serious performance that makes it close to matching the track-ready Z06.
The E-Ray is the first electrified Corvette and the first to be available with AWD. Power comes from the regular Corvette's 6.2-liter V8 engine that produces 495 horsepower. The engine routes power to the rear wheels through an eight-speed automatic transmission. What separates the E-Ray from a regular Corvette is the electric motor that's mounted on the front axle. The electric motor produces 160 hp and 125 lb-ft of torque, bumping total power up to 655 hp.
The power rating makes the Corvette E-Ray less powerful than the Z06. That model comes with a 5.5-liter V8 engine that's rated at 670 hp and 460 lb-ft of torque. Despite the fact that the E-Ray is down on power and roughly 300 pounds heavier than the Corvette Z06, it's quicker to 60 mph than the Z06.
Chevrolet claims that the E-Ray has a zero-to-60-mph time of 2.5 seconds, which is 0.1 seconds quicker than the Z06's claimed time. The figure makes the E-Ray the quickest Corvette in production history. While the E-Ray is quicker than the Z06, the latter has a higher top speed of 195 mph. The E-Ray reportedly tops out at 150 mph. Both sports cars can complete the quarter mile in roughly 10.5 seconds.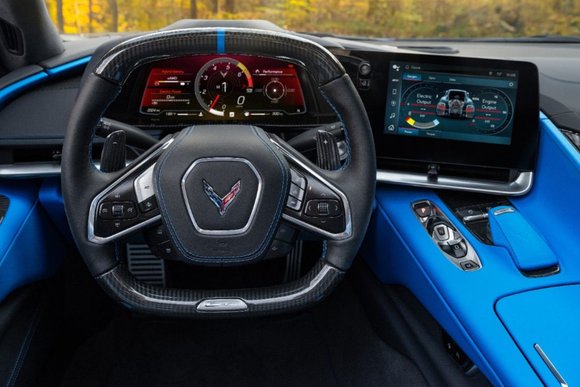 Based on the figures, the E-Ray is on par with the Z06, except when it comes to top speed. So, the Z06 is slightly faster. But the E-Ray has something the Z06 doesn't: Stealth Mode.
Stealth Mode enables all-electric driving in the Corvette E-Ray at speeds below 45 mph. Once the E-Ray's battery pack runs out of juice or the driver goes above 45 mph, the gas engine automatically kicks on. Chevy's thinking behind the Stealth Mode is that drivers can get through quiet neighborhoods without telling everyone that their sports car has supercar levels of performance.
With a 1.1-kWh lithium-ion battery pack, the E-Ray has an estimated all-electric range of just 5 miles. When running in electric mode, the E-Ray will create a sci-fi-like hum in accordance with federal safety mandates. Unlike a PHEV, the E-Ray doesn't have a charging port, but recharges the battery through coasting and braking.
The 2024 Chevrolet Corvette E-Ray will go on sale before the end of the year and will carry a starting MSRP of $104,295 for a coupe and $111,295 for the E-Ray Convertible.