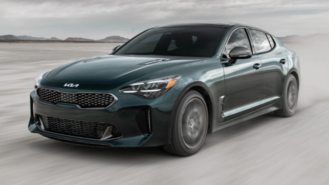 With the move to offer more electrified vehicles and to focus more on SUVs, automakers are dropping sporty cars at an alarming rate. Earlier this July reports indicated that Kia would kill off the Stinger after the second quarter of 2022. At the time, the Stinger's poor sales figures were the primary reason for thinking the vehicle would be axed. Now, we're hearing that the Stinger won't be discontinued.
According to CarBuzz, who spoke with Russell Wagner, Kia's VP of marketing, the Stinger will continue to be sold in the U.S. At the Los Angeles Auto Show, Wagner told the outlet that "we're happy with the Stinger's sales. It's not going anywhere. It's doing exactly what we want it to be doing and we see no reason for anything to change." Wagner didn't provide any other information on the Stinger's future.
This isn't exactly a slam dunk for Stinger fans, but it is good news. We're still left wondering if Kia will come out with a second-gen Stinger, but at least we know that the current model that's on sale will stick around for a little bit.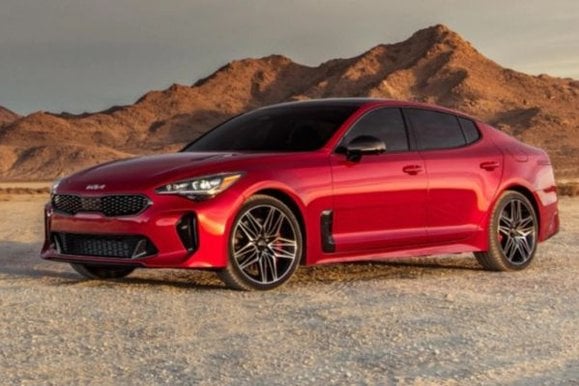 The first-gen Stinger that's on sale was introduced in 2018. The hatchback was proof of Kia's plans to move upstream and revealed that the brand could make a sporty, luxurious sedan. The Stinger is offered with a turbocharged 2.5-liter four-cylinder and a twin-turbo 3.3-liter V6 engine. The four-cylinder engine is rated at 300 horsepower, while the V6 produces 368 hp. Rear-wheel drive is standard with all-wheel-drive being an option.
Since its introduction, the Stinger hasn't been a high-volume vehicle for Kia. 2018 was the Stinger's best year when it accounted for 16,806 units sold. For comparison, Kia sold 75,129 Telluride SUVs in 2020. Through the third quarter of 2021, Kia has sold 11,651 Stingers. Against its European rivals, the Stinger isn't quite as popular. The Audi A4 (14,526 units sold), Mercedes-Benz C-Class (29,085 units sold), and BMW 3-Series (37,365 units sold) have all outsold the Stinger so far in 2021. Japanese competitors like the Lexus IS (20,519 units sold) and Acura TLX (24,300 units sold) have also fared better than the Stinger.
We're happy to hear that the Stinger will stick around for at least a little longer. Few vehicles offer the same combination of performance, luxury, and usability (the hatchback design offers up to 40.9 cubic feet of cargo space) as the Stinger. For consumers interested in purchasing a Stinger, we recommend buying one soon, as the clock is certainly winding down for the model as Kia moves to an EV-heavy lineup.
Build & Price Your Kia Stinger
Pictured: 2022 Kia Stinger