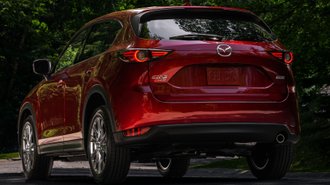 In a move that may not come as a complete surprise, Mazda has officially discontinued the CX-5 diesel in the U.S. Half a year after we pointed out the fact that the brand omitted any mention about America's last small mainstream diesel SUV, today Mazda confirmed that the pricey variant of the CX-5 is unequivocally dead.
According to an email from Mazda spokesperson Justin Pagtalunan, "After evaluating consumer demand, Mazda will no longer offer the Skyactiv-D diesel engine in the US market. Mazda will continue to advance its diesel technology globally as part of our Multi-Solution Powertrain Strategy." This seemed like a likely outcome.
The first signs of the CX-5 diesel's demise came last April when Pagtalunan declined to confirm the change but added "with the current state of the world, many things are tentative." While issues surrounding emissions certification seemed a likely cause, a filing with the California Air Resources Board suggested otherwise.
The CX-5 diesel was introduced for the 2019 model year, though an apparent leak seemed to confirm the addition as early as 2018. With an MSRP of $42,045 with destination, it became the most expensive CX-5, over $4,100 pricier than the non-diesel configuration at the time. It was sold only for a single model year.
The 2.2L Skyactiv-D engine may have been a tough sell considering its fuel economy proved to be just 1 mpg better than the regular CX-5 (29 mpg vs. 28 mpg). Around this time last year, a hidden incentive soon enabled dealers to discount the diesel by up to $10,000 off MSRP, more than any other Mazda.
At this point, the only way to buy a diesel CX-5 is in the used market and there are no similarly-sized mainstream alternatives since GM no longer builds either the diesel Chevy Equinox and GMC Terrain. That said, the gas-powered CX-5 Turbo could offer shoppers a potential alternative, albeit at the cost of lower fuel economy.
The 2.5T CX-5 is rated at up to 250 hp with 320 lb-ft of torque with 93-octane gas but comes in at 25 mpg. For 2021, the brand added a cheaper way to get it in the form of the Carbon Edition Turbo (MSRP $31,760). Just within the past year, the option has also been added to both the Mazda3 as well as the CX-30.