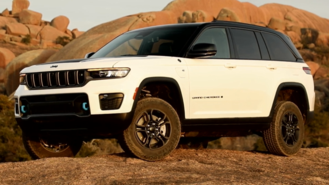 When Jeep unveiled the fully redesigned Grand Cherokee for the 2022 model year, the automaker offered the off-road-oriented Trailhawk trim with a 3.6-liter V6 engine and a 5.7-liter V8 engine. Jeep also offered the Grand Cherokee 4xe PHEV. That's going to change for the upcoming 2023 model year. For 2023, the Grand Cherokee Trailhawk will only be available with Jeep's 4xe plug-in hybrid powertrain.
Everything else for the Trailhawk remains the same for 2023, but now, consumers can only get the model with the PHEV powertrain. Jeep's 4xe plug-in hybrid powertrain consists of a turbocharged 2.0-liter four-cylinder engine that's paired with two electric motors and a 17.3-kWh battery pack. Combined output is rated at 375 horsepower and 470 pound-feet of torque.
The plug-in hybrid powertrain is a large upgrade over both the V6 and the V8 engines, which we expect to continue to be available on other Grand Cherokee models. The 3.6-liter V6 engine is rated at 293 hp and 260 lb-ft of torque. The 5.7-liter V8 engine produces 357 hp and 390 lb-ft of torque. The 4xe plug-in hybrid powertrain brings 18 more hp and 80 lb-ft of torque more than the V8. The latter will definitely pay off for consumers looking to tackle rugged terrain.
In addition to bringing more power, the 4xe plug-in hybrid powertrain brings 25 miles of all-electric range, up to 56 MPGe combined, and up to 23 mpg combined. For comparison, the V6 is rated at up to 22 mpg combined, while the V8 can get up to 17 mpg combined. The electrified powertrain does lose out on towing capacity compared to the V6 and the V8, as it tops out at 6,000 pounds. The V6 is rated to tow 6,200 pounds and the V8 maxes out at 7,200 pounds.
If there's one downside we expect to see with the Trailhawk being a PHEV-only model it's going to be on the pricing front. Jeep hasn't announced official pricing for the 2023 model year yet. The 2022 Trailhawk starts at $56,030 (with destination) for the V6 engine and $59,825 for models with the V8 engine. The 2022 Trailhawk 4xe is an extra $8,250 over the V6-powered Trailhawk with a starting price of $64,280. Without any other changes to the 2023 Trailhawk, pricing should be similar to the 2022 model.
While the plug-in hybrid powertrain results in a more powerful, capable, and efficient Trailhawk, it also results in a far more expensive model.