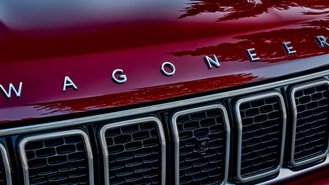 The first spy shots of an even larger Jeep Wagoneer model have surfaced. The vehicle, which was spotted wearing heavy camouflage, will be introduced as an even longer version of Jeep's full-size SUV. Currently, the Wagoneer measures in at 214.7 inches long, making it approximately 12 inches shorter than the mega large Cadillac Escalade ESV. It's not just the Escalade ESV, as Jeep is missing a rival to compete with the Lincoln Navigator L, too. This will change soon, as the camouflaged Wagoneer appears to be an extended wheelbase model.
While the spy photos are of a heavily camouflaged SUV, it doesn't look like Jeep intends to make any major changes to the way the extended-wheelbase Wagoneer looks compared to the current SUV that's on sale. At the front, the SUV wears the same seven-slot grille and thin headlights. It's only when you look at the SUV from the side that you see some minor changes.
The side profile of the SUV in the spy shots reveals that the camouflaged vehicle has slightly larger rear doors that don't connect with the rear wheel wells like they do on the Wagoneer that's currently on sale. Additionally, the side glass for the cargo area seems to be slightly larger than on the camouflaged Jeep.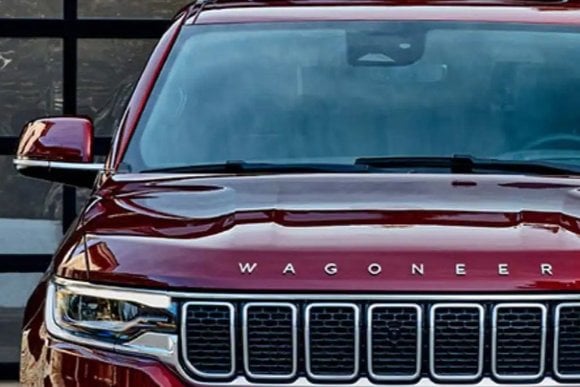 Much like the front end, the rear end of the camouflaged SUV doesn't have any major differences over the current model on sale. This leads us to believe that the extended wheelbase Wagoneer will simply be an extended version of the regular Wagoneer and not have any distinguishing exterior design elements. While there are no spy photos of the SUV's interior, the lack of exterior changes makes us believe that the upcoming extended-wheelbase Wagoneer won't have any interior changes, carrying the same overall interior design with a more spacious cabin.
This isn't really surprising, as it matches the Escalade ESV and Navigator L. We also expect the extended wheelbase Wagoneer to have the same powertrains as the regular Wagoneer. That means a 5.7-liter V8 engine with a mild-hybrid system and a 6.4-liter V8 engine should be available. Both engines should continue to be offered with an eight-speed automatic transmission.
Based on the spy photos of the long-wheelbase Wagoneer, it looks incredibly close to being production-ready. We wouldn't be surprised to see Jeep introduce the model before the end of the year as a 2023 model.
See the Latest Jeep Deals & Incentives
Pictured: 2022 Jeep Wagoneer