Autonomous vehicles are the next big thing for the automotive industry with nearly every automaker either having or planning to offer some kind of autonomous system that allows drivers to relax when behind the wheel of a car. Earlier this month, Lexus showcased its new advanced driver-assist system for the Japanese variations of the Toyota Mirai and Lexus LS and now, we've learned that Lexus is bringing the system to the U.S. under the Teammate name in the upcoming 2022 Lexus LS 500h AWD.
The new Lexus Teammate system is part of a bundle that includes the Advanced Drive and Advanced Park systems. Together, they enable the vehicle to have Level 2 autonomous capability. According to the SAE, a Level 2 autonomous system provides steering, braking, and acceleration inputs to support the driver, while features like lane keeping assist and adaptive cruise control work at the same time. With a Level 2 system, the drivers must constantly supervise these systems.
Breaking the systems down a little further, Advanced Drive is in charge of helping the sedan stay in its lane, accelerate, brake, and steer on limited-access highways. Additionally, Lexus claims Advanced Drive will even be able to navigate certain interchanges, traffic jams, and overtake vehicles. While all of this sounds impressive, the thing that will set Teammate apart from other semi-autonomous systems is that it's partially hands-free. This is a notable difference from General Motors' Super Cruise system, which is a more advanced, fully hands-free system.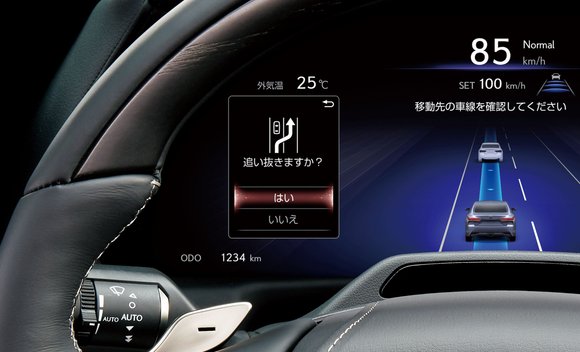 Then, there's Advanced Park. This part of the Teammate bundle allows the LS 500h to automatically parallel park or reverse into a spot. The sedan utilizes a 360-degree sensing unit that combines ultrasonic sensors and complete-circumference cameras to park on its own. The driver gets to see the vehicle in action via a bird-eye view on the display.
The upcoming 2022 Lexus LS 500h AWD will be the first vehicle from the automaker to be offered with the Teammate system in the U.S. We're sure Lexus Teammate will be expanded to other models in the future, but the LS 500h AWD is the only way to get it for the moment. The automaker's flagship sedan will go on sale later this fall.
For consumers, and Lexus, this is a huge deal. BMW, Mercedes-Benz, Cadillac, and Tesla have some sort of advanced driver-assist feature that can do most of the driving. Only GM's Super Cruise system offers complete hands-off driving on mapped highways, though. While consumers are initially wary of semi-autonomous systems, reports indicate that they adapt quickly and eventually wind up relying too heavily on the systems. Still, for consumers that spend a lot of time on the highway, Lexus' new Teammate system will be incredibly helpful.