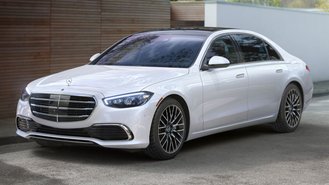 With new competition from Genesis and mainstream brands like Mazda coming out with premium vehicles, traditional luxury brands have to rethink their lineups. Earlier this February, Mercedes-Benz decided to kill off the A-Class, which was its entry-level model. It looks like the discontinuation of the A-Class was just the starting point for the German marque, as reports indicate that it will be dropping more of its budget-friendly vehicles.
Automotive News reports that Mercedes-Benz will be overhauling its lineup to focus on high-end vehicles. To increase the profitability of its Top End Vehicle segment, which includes the S-Class, G-Class, and AMG models, Mercedes plans to drop some of its entry-level cars. The outlet didn't have any information on which models would get dropped.
"We are further sharpening the focus of our business model and product portfolio in order to maximize the potential of Mercedes-Benz even in challenging conditions," CEO Ola Kallenius told the outlet. "At the heart of that is our goal to build the world's most desirable cars."
While the decision to drop affordable vehicles may seem odd to consumers, Mercedes is simply catering to its buyers. In the first quarter of 2022, Mercedes saw the number of total vehicles it sold drop by 10% compared to last year, but profits increased by 20%. The automaker's Top End Vehicle segment is the reason for the increase, as sales of vehicles in that category have gone up. Mercedes estimates that the segment will increase by 60% by 2026.
During the ongoing semiconductor chip shortage, Mercedes has clearly seen that it makes more money with its pricey models than with its entry-level vehicles. Whether that trend continues once the chip shortage ends remains to be seen, but Mercedes is set to put all of its eggs into one luxurious egg basket. Increasing prices for raw materials, supply chain issues, and economic risks are reportedly the three things that could stop Mercedes from reaching its targets.
In addition to looking into reducing the number of available models and configurations for entry-level models, Mercedes is also looking to offer pre-set packages for its vehicles that are based on regional preferences. This should simplify production and make things easier for shoppers.
Mercedes has been trying to reduce the complexity of its lineup for years now. Last February, reports claimed that a few of the automaker's coupes and convertibles – mainly the S-Class Coupe, S-Class Convertible, and SLC – would be discontinued. As the German brand shifts toward making electric vehicles, it's found that it has too many models that compete in small segments. Simplifying its lineup will bring production costs down, which can then be poured into EVs.
See Mercedes Deals & Incentives
Pictured: 2022 Mercedes-Benz S-Class (Top), 2022 Mercedes-Benz G-Class (Middle)