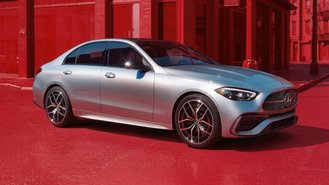 Last year, reports indicated that Mercedes-Benz was looking to overhaul its lineup to focus on high-end models. The idea to focus on the S-Class, G-Class, and AMG-branded models was to increase its profits and cater to its buyers. Now, a report from Car and Driver provides a better look at what's actually going to happen at Mercedes.
The outlet spoke with several unnamed top managers at the brand who stated that they believe time is running out for wagons, coupes, and convertibles. Out of Mercedes' extensive lineup that includes 33 body styles in Europe and the U.S., only 14 of them will reportedly survive.
"At the end of the day, we simply don't need estate cars [wagons] or underperforming two-door offerings to boost volumes," a senior member of Mercedes' strategy team told the outlet. "The most essential elements of sustainable contemporary luxury cars are space and time … That's our number one priority – not another fancy body style, a model that only works in Europe, or one last stab at a dying segment."
Apparently, Mercedes' decision is based on the automaker's understanding of luxury. Going forward, the German automaker plans to introduce cutting-edge creature comforts, take the pressure off the driver, and prepare its vehicles for personalized mobility services, claims Car and Driver. Basically, it sounds like Mercedes wants to offer more luxury features and shift to having more personalization.
The outlet claims that the C-Class and E-Class coupes and convertibles will be discontinued between 2023 and 2024. The vehicles will be replaced by the CLE-Class. The CLS-Class will disappear in 2024 and the high-performance Mercedes AMG GT 4 Door will cease to exist in 2024 or 2025. Mercedes will introduce new generations of both the GLC and GLE Coupes, but they won't exist past that.
While Mercedes' lineup with shrink dramatically, the automaker will be introducing a few new models. Mercedes-AMG will reportedly be launching a new GT Coupe soon. That model will be based on the new SL Roadster, which will be getting a new Maybach model. Things are going to get busy for Mercedes in 2026, which is when the brand is expected to launch a new four-door coupe, a new generation of the SL, and a new AMG GT coupe. All of these models are expected to be electric vehicles.
Source: Car and Driver