With no end in sight to the SUV craze, Toyota has decided to fill the void between the subcompact C-HR and the compact RAV4. The answer to Toyota's gap is the all-new 2022 Corolla Cross. In addition to slotting in between the two SUVs in terms of size, the Corolla Cross also splits in the two in pricing. The new subcompact SUV starts at $23,410 including pricing and goes up to $28,840 for an XLE trim with all-wheel drive. Compared to the Corolla sedan that it's based on, the Corolla Cross is an extra $2,120.
For a subcompact SUV, the Corolla Cross is competitively priced, though it is one of the more expensive options in the class. The Volkswagen Taos ($24,190) and Kia Seltos ($23,665) cost more than the Corolla Cross, while the Mazda CX-30 ($23,225), Honda HR-V ($22,645), and Hyundai Kona ($22,375) cost less. In Toyota's lineup, the Corolla Cross perfectly splits the C-HR ($22,910) and RAV4 ($27,565).
Unlike a few subcompact SUVs in the segment, mainly the C-HR and Nissan Kicks, the Corolla Cross is available with all-wheel drive. That feature costs $1,300 throughout the entire Corolla Cross lineup. With all-wheel drive, the range-topping XLE trim comes close to the $29,000 mark and is nearly just as much as the entry-level RAV4 LE with all-wheel drive.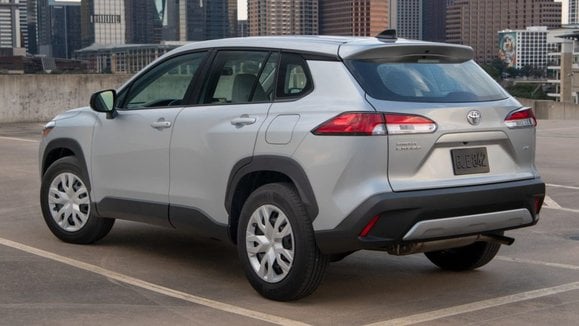 With consumers opting to purchase well-equipped vehicles instead of base ones and shoppers having a hard time finding base trims on dealer lots, we don't think a lot of people will actually cross-shop the two vehicles.
At the time of launch, the Corolla Cross will come with a 2.0-liter four-cylinder engine that makes 169 horsepower. It's the same engine found in the Corolla. The output also puts the Corolla Cross in the middle of the C-HR and RAV4, as the former is rated at 144 hp and the latter makes 203 hp.
Toyota is expected to introduce a hybrid version of the Corolla Cross sport in the future, which could see a starting price tag of roughly $26,000. That vehicle isn't expected to hit the market until 2023.
The subcompact SUV segment is packed with competitors, but the Corolla Cross gives Toyota a more competent option than the C-HR. The high-riding Corolla will arrive at dealerships later this October.