The move to electric vehicles is bringing up the future of a lot of nameplates. There's some good news for fans of the Alfa Romeo Giulia and Giulia Quadrifoglio. Alfa Romeo's CEO Jean-Philippe Imparato confirmed to Autocar that the two vehicles will survive to become all-electric models. Additionally, the mighty Quadrifoglio EV could arrive with up to 435 miles of range and 1,000 horsepower.
The Giulia lineup will change immensely in the future as Alfa Romeo looks to only have electric vehicles on sale starting in 2027. The electric car will utilize Stellantis' STLA large platform and 800-volt architecture. That should bring an impressive amount of range and performance, as well as quick recharge times. The outlet claims that Alfa Romeo is targeting a power output of 345 hp for the base Giulia, 790 hp for the Veloce trim, and 1,000 hp for the Quadrifoglio.
To get that kind of power out of the Giulia Quadrifoglio, the outlet claims that it will move to having three electric motors – one on the front axle and two on the rear axle. This also means that the high-performance Giulia would move to being all-wheel drive.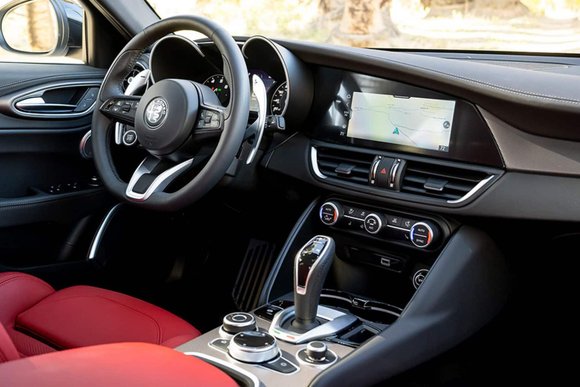 While the outlet doesn't have any information on battery pack size for the Giulia EV, Autocar claims that Alfa Romeo is targeting a range of up to 435 miles on the WLTP cycle. Because of the 800-volt architecture, the Giulia will reportedly be able to go from 10% to 80% charged "within 18 minutes."
Some Alfa Romeo fans will be sad to hear that the Giulia Quadrifoglio will be ditching its twin-turbocharged 2.9-liter V6 engine for an EV powertrain. But the good news is that the change will be accompanied with a massive bump in power. "I don't want you [customers/owners] to suffer from anything [because of] the switch; I want you to love it," said Imparato.
Things will probably change as Alfa Romeo's date to become all-electric approaches, but the electric Maserati GranTurismo Folgore could point toward a concrete possibility for the upcoming Giulia Quadrifoglio.
Pictured: 2022 Alfa Romeo Giulia
Source: CarBuzz