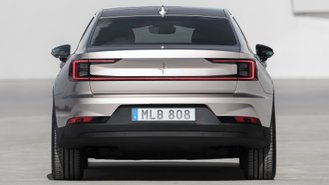 Polestar has closed its order books, citing high demand in a message on its website. Although this eliminates the ability to custom-order a Polestar EV, there may still be ways to get your hands on one before they're sold out. The move comes shortly after Ford stopped taking orders for the Mach-E and F-150 Lightning.
According to a company representative we spoke with today, Polestar quietly stopped taking orders for the Polestar 2 EV 10 days ago. The company's online configurator now says, "Due to high demand, we are currently closed for new orders," adding "Please proceed to our inventory of available pre-configured cars."
Unfortunately, that may not mean what you think it does. Here in Southern California, Polestar's website lists no electric vehicles in stock, with the soonest delivery date in early August. The representative we spoke with added that the actual delivery date "could be sooner," confirming these are not cars currently in stock.
Here's a screenshot of the message below:
Although Polestar's website promises things like "Cars ready for delivery," "A new Polestar in a matter of weeks," and refers to these vehicles as being in "our inventory," what it really means is that these are preconfigured cars due for production. Some pre-chosen builds have an estimated delivery in mid-September.
At this point, EV shoppers may be wondering whether it would make sense to simply wait for the 2023 Polestar 2 to come out. The EV was announced yesterday and promises better range and some improved creature comforts. In some cases, consumers may find themselves considering buying a new Tesla model instead.
Even though Tesla recently started giving delivery timeframes rather than specific months, its online configurator shows an estimated delivery as soon as June 2022 for a new Model 3. The downside is that the car in question is a loaded Model 3 Performance with a sticker price of over $64,000 before including taxes & fees.
While Tesla offers competitive financing rates, the company is inflating its EV prices by preselecting expensive wheel packages. High demand recently forced Ford to stop taking Mustang Mach-E orders, as well as to officially state that F-150 Lightning EV retail orders sold out prior to this week's highly-publicized truck launch.