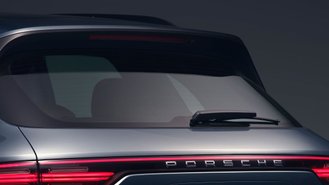 Automakers are entering the large all-electric SUV segment quickly. Mercedes-Benz has the EQS SUV, BMW has the iX, and Rivian offers the R1S. The segment is heating up and Porsche wants to get in on the action. At least, that's the news from Autocar, which reports that the German luxury brand is looking to introduce a seven-passenger, off-road luxury SUV that will have an all-electric powertrain by 2027.
The all-electric vehicle, which is codenamed the K1, will be similar in size to the Cayenne, but have a design that's part sedan and crossover. We're not sure what that means, but the outlet states that it will look unlike anything else in Porsche's lineup. The electric vehicle will utilize Volkswagen's PPE architecture, which is what will be used on the upcoming electric Porsche Cayman, Porsche Cayenne, Audi Q6 e-tron, and Audi A6 e-tron.
In addition to allowing Porsche to enter a new segment, the electric vehicle will feature a new electric system that will be rated at 920 volts, reports the outlet. The 920-volt architecture would allow for even faster charge times than what's currently available with 800-volt systems and allow for improved cooling. The SUV is expected to feature a 100-kWh battery pack, which will have a targeted range of up to 435 miles on the WLTP cycle.
Interestingly, Porsche is also looking to make the K1 EV capable off-road. The SUV is expected to have four-wheel steering, adjustable air suspension for increased ride height, and, we have to assume, a high-tech all-wheel-drive system. The vehicle's rugged character should translate to its design, which should be more robust than Porsche's current roster of sporty offerings.
Obviously, the big news is that the upcoming electric vehicle will have seating for up to seven people. That's big for Porsche, which doesn't have a three-row SUV in its lineup right now. The midsize Cayenne is the largest SUV that the automaker sells and it's only available with two rows of seats.
As one would expect, a three-row Porsche with off-road capability and a high-tech all-electric powertrain won't be cheap. Autocar claims that the vehicle will cost around $180,000. That would make it far more expensive than the BMW iX, MB EQS, and Rivian R1S, but in the same realm as the new BMW XM and high-performance options from Aston Martin, Lamborghini, and Ferrari.
Porsche's Macan and Cayenne SUVs are some of its most popular vehicles. It makes a lot of sense for the automaker to venture into the three-row segment with a seven-seater. With automakers ditching internal combustion engines for electric powertrains, it's not surprising that the vehicle will be an EV. We'll have to wait to see what kind of design, performance, and interior space the K1 EV will have, but it's a vehicle to keep an eye on.
Source: Autocar