Originally, Ford was supposed to launch the two- and four-door Bronco in spring 2021. Before the end of 2020, the automaker delayed the vehicle because of coronavirus-related supply issues. At the time, the launch of the highly-anticipated SUV was pushed back to summer 2021. Now, according to a report from Autoblog, the Bronco is facing yet another delay because of the optional painted modular hardtop roof. Buyers that want this roof will have to wait for a 2022 model.
The latest delay for the Bronco is because of COVID-related production delays that supplier Webasto is facing. Buyers that aren't interested in waiting for a 2022 Bronco with the painted modular hardtop roof have a few options. They can switch to the Carbonized Gray molded-in-color hardtop roof or the soft-top roof. Buyers that decide to stick with the modular hardtop roof will take delivery of a 2022 model at the same price as a 2021 model. For Bronco buyers that are interested in going with a different roof, they'll have until April 8 to make the necessary changes.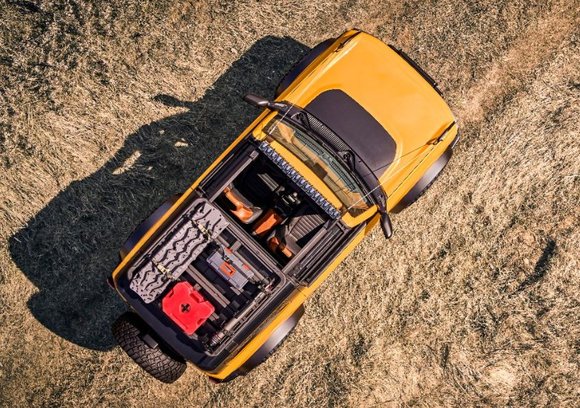 Ford, according to the outlet, is giving affected Bronco owners some compensation. A few Bronco customers will receive 200,000 FordPass points, which are worth roughly $1,000 in services and accessories at Ford dealers. The automaker is also providing owners a $250 voucher for the Bronco Off-Roadeo 1.5-day experience. Buyers that decide to make a switch to the molded-in-color hardtop will receive the available sound-deadening headliner, which is usually a $495 option, at no additional cost. Ford already gave customers $300 worth of FordPass points because of earlier delays.
Since the Bronco Sport is only available with a hardtop roof, this delay only affects the Bronco. Ford hasn't provided any information on how consumers are configuring their Broncos, so it's difficult to say whether the modular roof has been a popular choice. The modular hard top roof is an optional $1,895 on Big Bend, Outer Banks, Black Diamond, Badlands, Wildtrak, and First Edition trims.