The 2022 Subaru Forester has been refreshed for the new model year. While all Forester SUVs have a new look and a new automatic emergency steering feature, the most noteworthy change is the addition of a new Forester Wilderness Edition. Just like the Outback Wilderness we saw earlier this year, the rugged Forester Wilderness focuses on off-roading capability above all else. The SUV sits in the middle of the 2022 lineup, carrying a starting price tag of $33,945 with destination.
The Forester Wilderness isn't a new concept for Subaru. The compact SUV has a 0.5-inch lift thanks to longer coil springs and shock absorbers for a total of 9.2 inches of ground clearance, 17-inch wheels, Yokohama all-terrain tires, a new front fascia, larger wheel arches, a heavy-duty skid plate, hexagonal LED fog lights, and matte-black decals. The updates certainly give the Forester Wilderness the rugged design that one would expect to see in an off-roader.
In addition to the rugged design, the Forster Wilderness has the goods to go off-roading. It has the same 2.5-liter flat-four engine as the rest of the Forester lineup, though the continuously variable automatic transmission (CVT) has been revised to have eight simulated ratios instead of seven. The CVT has a different final drive ratio than the CVTs found on other Foresters, helping the Wilderness trim have more low-end grunt. The change also helps with towing, as the Wilderness trim can tow up to 3,000 pounds. Lastly, Subaru has updated the trim's X-Mode, too.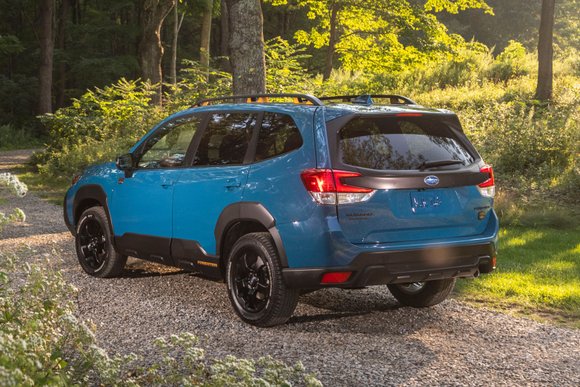 The changes make the Forester Wilderness the most capable choice in the lineup. Consumers will pay for the extra off-roading capability, though, as the Wilderness is $7,625 more than the standard Forester. In the Forester lineup, the Wilderness sits smack dab in the middle. The Touring is the range-topping model with a starting price tag of $36,420.
Compared to the Outback Wilderness that was already on sale, the new Forester Wilderness is more affordable. The rugged Outback is priced at $38,120, $4,175 more than the Forester Wilderness. The wagon offers 3,500 pounds of towing capacity, 9.5 inches of ground clearance, a 260-horsepower turbocharged 2.4-liter flat-four, and up to 75.7 cubic feet of cargo space (4.8 cubic feet more than the Forester assuming the SUV can still hold up to 70.9 cubic feet of cargo).
The Forester Wilderness doesn't have a lot of competition in the compact class. The Jeep Cherokee is the Forester Wilderness' closest rival, especially in the available Trailhawk trim. The Trailhawk comes with four-wheel drive as standard, off-road suspension, 8.7 inches of ground clearance, a 271-horsepower V6 engine, rugged skid plates, and unique design elements. The Trailhawk costs $37,995 or $4,050 more than the Forester Wilderness.