Subaru has increased prices on nearly every model in its lineup and really wants consumers to know about it. According to an unprecedented notice posted to the top of the company's U.S. website, virtually every Subaru got a $500 price increase yesterday but the brand's site doesn't yet show the higher MSRPs.
Almost every 2022 Subaru model has an MSRP that's $500 higher than before. Subaru says the changes were implemented starting with "customer orders placed on April 26, 2022," adding "current MSRP on site does not reflect the increase." The only car unaffected by the mid-year price increases is the BRZ.
We've posted a screenshot of the lengthy message below.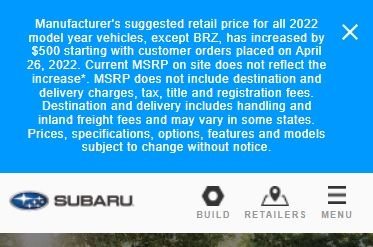 So is a $500 price increase really all that unusual? Not really. Mid-year price hikes are generally quite common, though a global chip shortage and supply chain issues have compelled brands like Ford to increase prices more often than others. We're also seeing indications that Toyota is planning to raise prices in May.
In the case of a 2022 Subaru Crosstrek, a $500 price increase would result in an MSRP of $23,145 excluding destination (up from $22,645). That's a price increase of 2.2%, well within the typical range of 1% to 3% that we see from most major manufacturers. Fortunately, not every car on the lot may be affected.
That's because mid-year price increases typically only affect cars invoiced after a specific date. As a result, a vehicle that's been sitting on the lot for weeks may be completely unaffected. Still, limited availability could result in consumers being hit twice by the higher MSRP and a potential dealer price markup.
If you're comparing Subaru prices and see different sticker prices, yesterday's changes could be the most likely culprit.