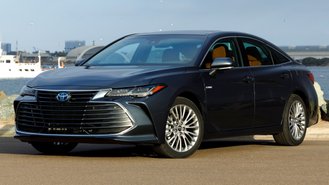 The large car segment is quickly disappearing. Currently, there are only four mainstream options in the class, including the Dodge Charger, Chrysler 300, Nissan Maxima, and Toyota Avalon. After 2022, the class will be reduced to just three choices, as Toyota will reportedly discontinue the Avalon, reports Automotive News.
A spokesman for Toyota Motor North American confirmed the news to the outlet. "While Avalon will be discontinued after the 2022 model year, Toyota remains committed to the sedan segment and we encourage customers to stay tuned for future developments. Toyota Motor Manufacturing Kentucky production capacity and employment will not be impacted," the Japanese automaker said in a statement to Automotive News.
The Avalon has been on sale in the U.S. since 1994. The large sedan is currently in its fifth generation and stands out for being a luxurious, comfortable, and spacious option. An all-new Avalon just came out in 2019. For the 2021 model year, Toyota introduced an all-wheel-drive powertrain, came out with a new XSE Nightshade Edition, and added Android Auto as a standard feature.
With the death of the Chevrolet Impala, Kia Cadenza, Hyundai Azera, and Ford Taurus, the mainstream large car class is smaller than ever before. While we're sad to see the Avalon go, because it's genuinely a good car, Toyota's just following the current trend of investing heavily into SUVs. Unfortunately, consumers looking to get into a large sedan may be primarily left with luxury options. The Mercedes-Benz S-Class, BMW 7-Series, Audi A8, and Lexus LS are still on sale.