After seven model years on sale, the Toyota Camry is getting a full redesign. A lot of changes have been made for the Camry's ninth generation, as the popular midsize sedan receives a new design, benefits from an updated interior, and is only available as a hybrid. With the Hyundai Sonata getting a refresh and the Honda Accord undergoing a full redesign recently, it looks like Toyota timed the Camry's full redesign at a time when it needs to stay competitive.
The biggest change for the 2025 Toyota Camry is that it will only be available as a hybrid. With Toyota being a leader in the hybrid segment and offering an extensive number of hybrid models, the redesigned Camry's hybrid powertrain should be familiar. The midsize sedan features a 2.5-liter four-cylinder engine that can be paired with either two or three electric motors. Front-wheel-drive models come with two electric motors, while all-wheel-drive models have an extra motor for the rear wheels. This is the first time Toyota has offered the Camry Hybrid with AWD. Output is rated at 225 horsepower with FWD and 232 hp with AWD. Both options will come with a continuously variable automatic transmission.
Toyota didn't provide an estimate for fuel economy for the 2025 Camry yet. The current Camry Hybrid that's on sale is rated to get up to 52 mpg combined (51 mpg in the city and 53 mpg on the highway). We expect the 2025 Camry to get similar fuel economy, though it does have 17 more horsepower than the current model on sale.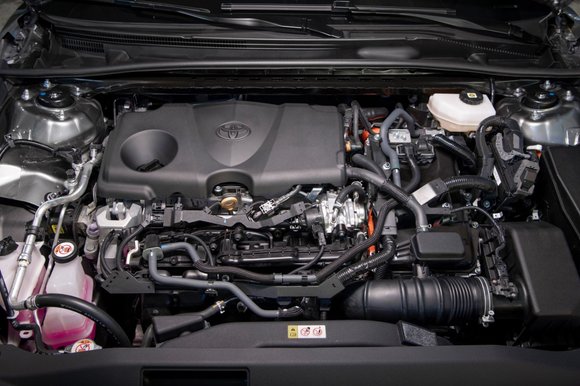 With the move to a hybrid-only powertrain, Toyota is saying goodbye to the Camry's old 2.5-liter four-cylinder engine and available 3.5-liter V6 engine. The previous gas-powered four-cylinder engine was rated at 203 hp and 182 lb-ft of torque, while the 3.5-liter V6 was rated at 301 hp and 267 lb-ft of torque. Toyota was one of the last automakers to offer its midsize sedan with a V6 engine and it was a punchy one. We'll certainly miss the V6.
The 2025 Camry's move to only being available as a hybrid will see Toyota drop its traditional automatic transmissions, too. The gas-powered Camrys were available with an eight-speed automatic transmission, while the 2025 Camry is solely offered with a CVT. The outgoing eight-speed automatic transmission was a good pairing for the gas-powered engines, delivering quick shifts and operating smoothly.
Toyota's choice to only offer the Camry as a hybrid is an interesting one. Most of the Camry's competitors are available with gas-powered engines, though they entry-level engines are small, turbocharged motors with less than 200 hp. We're sure that most shoppers won't mind that the 2025 Camry is only available as a hybrid, as long as Toyota manages to keep pricing down. With the ninth-gen Camry set to arrive in 2024, we should get pricing on the sedan in the near future.
Pictured: 2025 Toyota Camry