Because of the popularity of SUVs and crossovers and the rising concern of being eco-friendly, many automakers have been trying to find ways to make bigger vehicles just as fuel-efficient as smaller ones. That's not always feasible given the weight differences between SUVs and regular sedans and hatchbacks, especially if the vehicle in question isn't an EV or hybrid. With the Corolla Cross, however, Toyota may have hit a sweet spot.
The Corolla Cross happens to have a fuel economy rating that is nearly as good as its smaller namesake counterpart, the Corolla. Seeing the size of the Corolla, either the sedan or the hatchback version, people would guess that the fuel economy is pretty good, but it's no surprise that even compact SUVs and crossovers tend not to do as well. Depending on the configuration, the Corolla Cross could be a good alternative to the Corolla.
For models that have a 2.0 L 4-cylinder engine, the Corolla Cross has an MPG of 31 city, 33 highway, and 32 combined, while the 4WD version comes in at about two points lower in each category. Those are decent numbers for a gas compact SUV to pull, especially when compared to the Corolla hatchback's 32 city, 41 highway, and 35 combined or the Corolla sedan's 31 city, 40 highway, and 34 combined.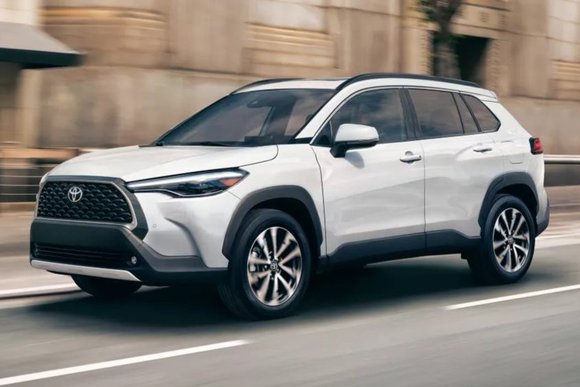 How is Toyota managing to get the numbers that close? Typically, the larger a car the more fuel is needed to power it along. All three of these Toyotas, however, weigh within 400 pounds of one another. The sedan weighs around 2,900 pounds at its lightest and the Cross weighs around 3,300 at its heaviest. Considering the weight for a compact SUV can reach around 3,600 with all the bells and whistles added, that's a decent chunk off the scale.
Toyota has clearly kept the consumers' needs in mind, going for a lightweight SUV that will save money at the gas station. Satisfying the want for a larger vehicle and the want to remain environmentally conscious has become something more and more automakers are looking to do. Other brands that have made similar efforts in their compact SUVs are Ford with the Escape and Chevrolet with the Trailblazer. So if you're a buyer looking for a compact SUV with fuel economy to rival a sedan, the 2022 Toyota Corolla Cross could be an option to keep your eye on, with some early lease deals to get things started.