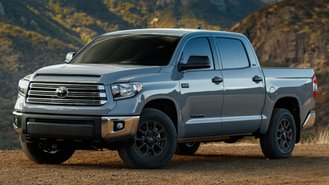 The COVID-19 pandemic threw the automotive industry off balance, while the ongoing chip shortage has made it almost impossible to get back on track. Together, the pandemic and the chip shortage have seen automakers' new vehicle inventories dry up at dealerships and prices for vehicles to skyrocket. According to a report by Automotive News, Toyota believes that its vehicle shortage could carry into the second quarter of 2022.
As the outlet points out, there are just 932,000 vehicles on sale across the country. That figure is far less than the 3.1 million vehicles on sale two years ago. Toyota and its luxury brand Lexus have some of the worst inventory levels of any major automakers. Bob Carter, head of sales at Toyota Motor North America, told the outlet that the automaker began July with just 38,000 new vehicles on dealer lots. That's a supply of roughly six or seven days. While Toyota was hoping that things would start to improve, a spike in the number of COVID-19 cases in the U.S. could further hamper production.
"We thought things were starting to turn for the better, but this is affecting everybody, Toyota included," Chris Reynolds, chief administrative officer for manufacturing and corporate resources at TMNA, told the outlet. "It goes to show that you can never let your guard down, and things are subject to change. It's the virus that runs the show here; I wish we did."
With COVID cases on the rise and the chip shortage continuing to rage on, Toyota is unsure of when its inventory will return back to normal. "It will take a little time — maybe into the second quarter of 2022 — before we see inventories start to stabilize to match demand again," said Carter.
The issue with getting more inventory at dealerships is that demand for new vehicles is incredibly high. Consumers are willing to pay over MSRP for vehicles sight unseen. Instead of placing a vehicle order for a new car and waiting a few months, consumers are happy to pay more for vehicles that are available right now. Because of this, dealers are facing an uphill battle to stock new vehicles.
"We're seeing trucks coming into our dealers carrying nine vehicles, and eight of them have consumer deposits on them," said Carter.
Unfortunately, because of the chip shortage, consumers are having to make some compromises on the vehicles they purchase. For some, it's something small, like the color. For others, it involves getting a vehicle with some features that have been cut out. Despite these issues, demand for new vehicles remains incredibly strong.
Consumers looking to get direct answers on when inventory issues will improve won't receive any answers from automakers because they don't really know when things will get better. Everyone's waiting on chips and no one knows when they're coming.