One would've expected the SUV craze to die down a little bit. That's far from the case and in reality, things have become even hotter in the world of SUVs. Automakers are now looking to fill tiny holes in their SUV lineups with niche vehicles. While patents are far from concrete evidence than an automaker is looking to add a new vehicle to its roster, if the latest one from Toyota is to be believed, a new SUV called the Grand Highlander is on the way.
An eagle-eyed forum member on GR86 spotted a recent trademark application for Toyota regarding the "Grand Highlander." The trademark is for "automobiles and structural parts thereof." Beyond that information, the rest is left up to the imagination.
We assume that the Grand Highlander name refers to a larger version of the regular Highlander. The latter is a three-row midsize SUV that sits above the compact RAV4, midsize Venza, and midsize 4Runner, but below the large Sequoia and Land Cruiser. The Grand part of the name would certainly bring more third-row legroom and extra cargo capacity. Those are two areas that could be improved with the current Highlander. Currently, the SUV offers 27.7 inches of legroom and 16 cubic feet of cargo space behind the rear seats. A Grand Highlander would, theoretically, offer more room in these two areas without encroaching into the Sequoia's territory.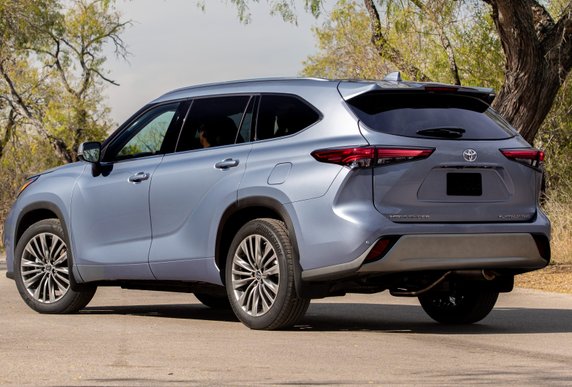 It also reminds us of what Lexus did with the RX and RX L. In 2018, Lexus split the SUV into two lineups – the two-row RX and the three-row RX L. Instead of using the "L" moniker, Toyota would take a different route by putting "Grand" in front of the SUV's name. To us, it sounds better.
With SUVs becoming the go-to family vehicle over the past few years, we're sure Toyota sees a market to introduce a larger version of the Highlander, especially as the Sequoia and Land Cruiser and truck-based SUVs with inefficient V8 engines. Toyota would probably offer the same powertrains in the Grand Highlander as the ones that are found in the regular Highlander, including the efficient hybrid setup.
Filing a patent is usually the first thing an automaker does when it's looking to bring a new vehicle to market. So, a Grand Highlander is still a few years away, at the earliest.