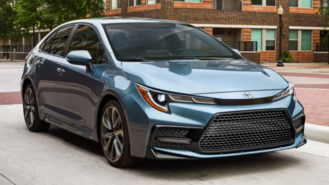 For the first time since 1931, General Motors was not the best-selling car company in the U.S. In 2021, Toyota dethroned GM to sell the most vehicles in America, ending GM's 90-year streak. Not only did GM's streak end in 2021, but the year also marked the first time a non-domestic automaker topped the charts in America.
Last year, Toyota sold 2.332 million vehicles in the U.S., reports Reuters. GM sold a total of 2.218 million cars. Compared to 2020, Toyota's sales were up by 10%, while GM's were down roughly 13%.
2021 was a rough year for automakers, as the chip shortage decreased production. Because of the shortage, GM had to halt production of its trucks in the middle of last year and cut some features out of its vehicles to continue building others. Trucks are GM's bread and butter, so not being able to sell those vehicles for a portion of the year hurt the brand. Toyota was able to handle the chip shortage situation better than GM, as the Japanese brand cut production of its vehicles in October 2021 and got production back on track in December.
Toyota expects 2022 to be an even better year for the Japanese brand, but it doesn't expect to retain the number one spot in U.S. sales. Reuters claims that Toyota doesn't have any plans to advertise that it was America's best-selling automaker last year. GM, on the other hand, is looking to 2022 to take its crown back. "I wouldn't rush out if I were (Toyota), and get a 'We're No. 1' tattoo," GM Spokesman Jim Cain told the outlet.
Just like sales last year, automotive sales in 2022 entirely depend on the availability of semiconductor chips. No one knows when the chip shortage will end, but analysts believe that the deficit could last until 2023. If true, that could lead automakers to prioritize vehicles, push consumers to order vehicles from the factory, and, possibly, alter production for vehicles. While prices are expected to come down from all-time highs, that won't happen unless new vehicles arrive at dealer lots.
See Toyota's Top Lease and Rebate Deals
Pictured: 2022 Toyota Corolla (Top), 2022 Toyota RAV4 (Middle)