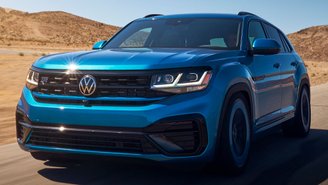 While they may sound odd, high-performance SUVs have become a thing. The Lamborghini Urus, Jeep Grand Cherokee Trackhawk, Alfa Romeo Stelvio Quadrifoglio, just to name a few options, prove that consumers are willing to sell out big bucks for a performance-oriented SUV. Volkswagen doesn't really have a sporty SUV in its lineup, but that could change soon if the new Atlas Cross Sport GT Concept will be used for inspiration.
The Atlas Cross Sport GT Concept is the latest in Volkswagen's enthusiast build, following the Arteon Big Sure and Taos Basecamp. The concept is based on the Atlas Cross Sport's R-Line trim, but features a litany of performance components. Upgraded suspension, 22-inch wheels, eight-piston brakes, and high-performance Yokohama summer tires have been fitted to the concept. The juiciest part of the package, though, is found under the hood.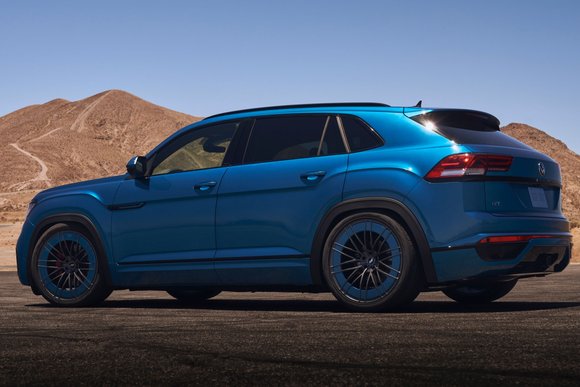 VW stuffed the turbocharged 2.0-liter four-cylinder engine from the Mk7 Golf R into the Atlas Cross Sport GT Concept. The engine gets a new turbocharger and an extra front-mounted radiator. Volkswagen claims the engine produces more than 300 horsepower and comes with a seven-speed DSG automatic transmission. The concept puts power down through all four wheels via an all-wheel-drive system.
Design-wise, the concept is finished in Kingfisher Blue, which is a color VW offers in Europe and features plenty of GT badges around the body. The cabin gets more extensive changes that include heavily bolstered Recaro seats, a four-passenger layout, a unique rear center console, and blue accents.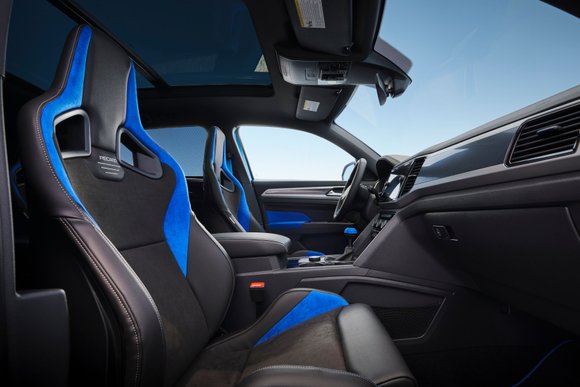 While the Atlas Cross Sport GT Concept is a cool-looking SUV, there's little chance VW would put something like this into production. Instead, the automaker is showcasing what the automaker could do with the Atlas Cross Sport if it wanted to. If anything, Europe could get something similar to the concept, as VW sells the performance-oriented Tiguan R and T-Roc R overseas. VW could be using the concept to gauge interest in a performance Atlas Cross Sport model for the U.S., but it certainly wouldn't come with the same performance features and design as the concept.
For shoppers seeking a high-performance SUV, there are quite a few options available from both mainstream and luxury brands. Mercedes-Benz, BMW, Porsche, Jeep, Dodge, and more all offer high-performance SUVs. While non-luxury models with outstanding performance specs are relatively limited, some prime examples include both the Ford Explorer ST and Edge ST.