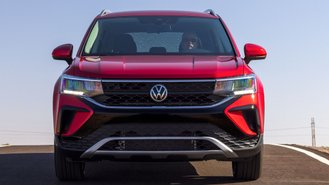 According to Automotive News, Volkswagen will issue a stop-sale for the subcompact Taos crossover. The outlet reports that sales of the all-wheel-drive versions of the Taos are being halted because "an issue may cause the vehicle to shut off while in use." The automaker shared the news with dealers earlier this week.
VW spokesman Mark Gillies told the outlet that the automaker identified the problem, shared the information with its dealers, and is now "following the required NHTSA reporting time frame." Volkswagen isn't aware of any injuries that have been caused by the problem.
According to the notice that VW sent to dealers, the Taos' all-wheel-drive system can "shut off unexpectedly when coming to a stop." VW stated that it was "working on a repair to address the issue; at this time a repair is not available." The automaker didn't provide any information on how many SUVs are affected or a timeline for when it plans to fix the issue.
Volkswagen launched the 2022 Taos earlier this year. In the first month that the subcompact vehicle was on sale, VW sold 4,939 units of the SUV. In Volkswagen's lineup, the Taos slots in as the smallest and most affordable SUV. It's cheaper and smaller than the Tiguan, Atlas Cross Sport, Atlas, and all-electric ID.4. Pricing for the Taos starts at $24,190 with destination.