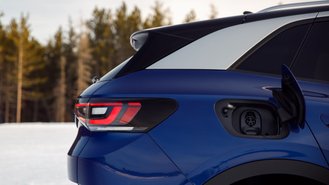 Aprils Fool's Day is right around the corner, but Volkswagen got a head start on the tradition with a poorly executed joke. The German automaker put out an official press release and took to Twitter to announce that it would be changing its name to "Voltswagen." Cute. After numerous outlets ran the story, rightly so since the automaker used its official press sites to confirm the change, Volkswagen now claims it was all just a marketing stunt. This is good news, because Voltswagen is a horrific name and someone at Volkswagen needs to check their calendar.
Originally, Volkswagen released an official press release on its U.S. media site that claimed it would be changing its name. That press release has since been deleted. The tweet where Volkswagen claimed that it was changing its name is still on its site, though. As far as April Fool's jokes go, this one was not only premature, but a poor way to draw more attention to the brand's electric vehicles.
After Volkswagen's dieselgate scandal, the automaker was forced by the U.S. government to invest in electric vehicles, green energy, and public charging stations. The German brand has a lot of lofty electrification goals, but only has one electric vehicle on sale in the U.S. at the moment.
The all-electric ID.4 was recently introduced as the brand's first long-range all-electric, SUV. The ID.4 will be available in three trim levels: Pro, Pro S, and 1st Edition. The Pro and 1st Edition trims come with an 82-kWh battery pack and an electric motor on the rear wheels that makes 201 horsepower. The upcoming ID.4 Pro S will have an all-wheel-drive system with a total of 302 hp. Range is rated at 250 miles by the EPA.
In the official press release, Volkswagen claimed that using the Voltswagen name symbolized the automaker's push toward e-mobility and highlight its pivot to pursue EVs in the future.
"We have said, from the beginning of our shift to an electric future, that we will build EVs for the millions, not just millionaires," said Scott Keogh, president and CEO of Volkswagen of America in the press release. "This name change signifies a nod to our past as the peoples' car and our firm belief that our future is in being the peoples' electric car."
Volkswagen has some large goals for its electrified future. While the ID.4 is the only EV on sale in the U.S., a production version of the ID Buzz is expected to arrive in 2023 as a 2024 model. Rumors of a flagship electric sedan that's code-named Project Trinity are also in the works. Volkswagen expects that 50% of its sales to come from all-electric vehicles by 2030. To reach that goal, the automaker will release a new EV every year. Earlier this month, Volkswagen announced plans to build six battery factories in Europe to get more control over its supply chain for EVs. All of the factories are expected to go live in 2030.