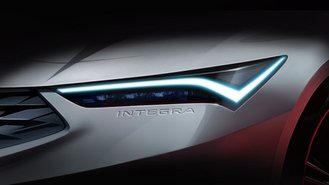 Compact luxury sedans with coupe-like styling are in. Mercedes-Benz sells the CLA, while BMW has the 2-Series Gran Coupe. Acura is looking to enter the segment by bringing the Integra name back. Of the few images that Acura has released of the upcoming Integra, one of them reveals the rakish roofline that will give the sedan its coupe-like look and a large hatchback opening. Recent spy shots that were posted on Integra Forums have some people believing that the Integra may just be a fancy Civic Hatchback.
While the spy photos of the Integra are our best look at the vehicle in real life, they don't really give us a good idea of what the car will look like. The main reason for that is because the vehicle is shrouded in camouflage. Everything, beyond a little portion of the headlights and taillights, is covered up by white and black camo. You can see the overall shape of the vehicle, and we have to admit that it looks very similar to the Civic Hatchback. We do, though, think that there might be some extra camouflage on the vehicle that adds some bulk, which could explain why it looks more like a hatchback and not a four-door coupe.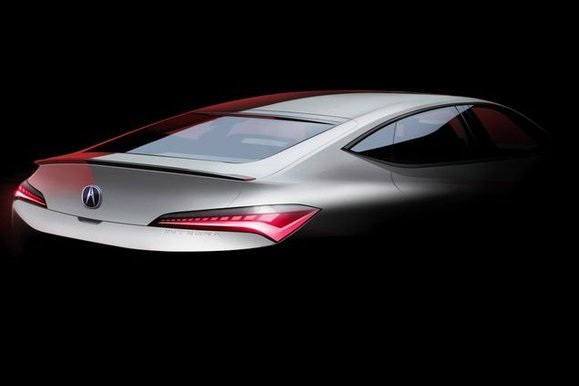 The front end also looks awfully similar to the new Civic's. Acura's iconic pointy front end is missing, too. Instead, the spy photos reveal a blunter nose with the same squared-off edges, grille shape, and lower air vent as the Civic. While Acura may have been able to change the rear end of the Civic, the front end could be more difficult to change substantially.
While the Integra's final design is still up in the air, Acura confirmed that the car would be available with a six-speed manual transmission. The automaker confirmed the news in a video that highlighted the car's shift knob. A clip of the vehicle's engine was playing in the background, which sounded similar to the turbocharged four-cylinder engine in the Civic. We were expecting the Integra to share a lot of parts with the Civic, so it's possible that Acura could use the same turbo 1.5-liter four-cylinder engine.
At the moment, Acura hasn't confirmed a lot of news for the Integra. The vehicle will go on sale in 2022 and be a four-door hatchback. Other than those two things, we don't know what kind of engine the Integra will come with, how much it will cost, what it will actually look like, or what kind of features it will come with. The Acura TSX was criticized for being a rebadged, fancier version of the Civic. So, it's possible that the Integra could share a lot of the same equipment, features, and powertrains as the Civic, but have a more upscale design.
Read Our Full Preview of the 2023 Acura Integra
Pictured: 2023 Acura Integra Teaser Images