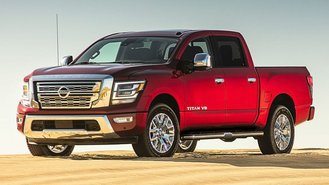 In the full-size pickup truck scene, options from American brands continue to reign supreme. If you're looking for a big truck to tow and haul cargo, there's a good chance that you'll wind up with something from Ford, Chevrolet, Ram, or GMC. Nissan's full-size pickup truck, the Titan, has never been that popular, failing to get close to its competitors on the towing or hauling front. According to Autoline Network, citing analysts at Auto Forecast Solutions, Nissan will not replace the Titan when the time comes for the truck to receive a full redesign.
At the moment, there's no proof that Nissan has plans to discontinue the Titan and since automakers usually don't provide information on the future of specific models, we're taking this report as a rumor. Nissan did decide to stop selling the Titan and Titan XD in Canada after the 2021 model year and Titans aren't exactly flying off dealer lots in America. So, we would understand Nissan's decision if it did decide to stop selling the full-size truck.
From January to September 2021, Nissan has sold 22,771 Titans. During the same time frame, Ford sold 603,089 units of the F-Series, Chevrolet sold 414,388 units of the Silverado Series, Ram sold 434,773 units of its full-size trucks, and GMC sold 191,185 units of the Sierra Series. These automakers include both full-size and heavy-duty trucks in their overall sales figures. Even the Toyota Tundra managed to outsell the Titan with 74,763 units sold over the first nine months of the year. Clearly, the Titan isn't the brand's best-seller.
The star child in Nissan's lineup is the Rogue. The compact SUV has accounted for 234,646 units sold in the first three quarters of 2021. The Sentra is also popular, as Nissan has sold 110,822 units of the compact sedan in the first nine months of the year. With its SUVs and sedans doing so well, Nissan could shift gears to focus on these options instead of selling the Titan. Nissan does have a midsize pickup with the Frontier that accounted for 38,062 units sold in the first nine months.
Nissan has gone to extreme lengths to make the Titan more attractive. We've seen the automaker offer consumers that purchase the truck with a $0.99 lease on a Leaf EV, as well as a 0% APR rate for a 72-month loan. While the incentives are nice, they don't fix the Titan's big issue, which is its lackluster towing and payload capacities. The Titan XD can tow up to 11,040 pounds and can haul up to 2,240 pounds. When properly equipped, the F-150 is rated to tow up to 14,000 pounds and haul 3,325 pounds.
Find Out More About the Nissan Titan
Pictured: 2021 Nissan Titan