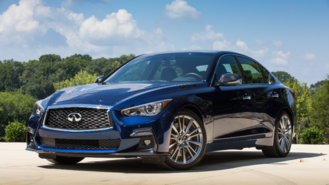 Take a look at Infiniti's lineup, and you'll notice one type of vehicle is slowing disappearing: hybrids. Earlier this year, the Japanese luxury automaker discontinued the Q70 Hybrid. Now, the company is cutting the cord for the Q50 Hybrid for 2019, as Infiniti spokesperson Kyle Bazemore confirmed to Green Car Reports. The company likely ended production for both models due to stagnant sales, but don't think of the Q50 Hybrid's discontinuation as an abandoning of alternative powertrains from Infiniti.
Instead, the company is readying an onslaught of new electric vehicles based on its Q Inspiration concept. New hybrids are scheduled to hit the market by 2021 with EVs coming before 2023.
It also didn't help that the Q50 Hybrid sedan returned mediocre fuel efficiency. The 2018 Q50 Hybrid returned an EPA-estimated 27 miles per gallon city, 32 mpg highway, and 29 combined with front-wheel drive. The gasoline-only 2018 Q50 isn't that far behind with ratings of 23/30/25 mpg (city/highway/combined).
The Q50 Hybrid has few direct competitors, but, even compared to other sedan hybrids, it doesn't fare well. The Honda Accord Hybrid returns 47 mpg combined, while the Lexus ES 300h returns 40 mpg combined. The only vehicle it compares favorably with is the Acura RLX Hybrid, which returns 28 mpg combined.
The Infiniti is $10,000 more than the Lexus, $25,000 more expensive than the Honda, and $10,000 cheaper than the Acura.