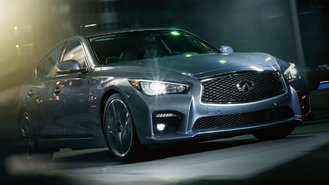 Turbocharging is available on a wide range of vehicles, from the 2015 Ford F-150 to the 2015 BMW M3. And with today's news, the monthly proof continues to trickle in. At this weekend's 2015 Pebble Beach Concours D'Elegance car show, a cornucopia of new models were unveiled for all to marvel at--many of which we, as well as the everyday consumer, can't necessarily afford at the moment. But one of the more mainstream models which will be well within reach is the upcoming 2016 Infiniti Q50. Like a growing number of entry-level luxury sedans, it will be offered with turbocharged power. It's an interesting note for the brand's best-selling model.
New Turbocharged 2016 Lexus IS 200t »
Why Turbo?
It's simple. Turbocharging not only offers the power and torque of a comparable six-cylinder engine, but offers the traits without sacrificing fuel efficiency. Moreover, it's generally a bit more affordable--especially with small-displacement engines which we're seeing as of late.
For example, the 2015 BMW 320 produces a solid 180 horsepower and 200 lb-ft of torque, but manages to achieve 24 mpg in the city and a surprising 36 mpg on the highway. It's price? $33,945 to start, which is a relative bargain in the segment. Back in 2011, the normally-aspirated inline-six which powered the 328 only made 230 horsepower while getting 18/28 mpg. And it cost roughly $1,650 more than the current 320.
Granted, normally-aspirated engines have a different feel and throttle response than their turbocharged cousins, but some shoppers actually can't tell the difference. In the case of the Q50, the current 3.7L V6 produces 328 horsepower and 269 lb-ft of torque, while only managing 20/30 mpg. But the base MSRP of $38,055 might be prohibitive to consumers who constantly cross-shop the models within the segment:
All base MSRPs include mandatory destination fee.
Turbocharging Is Here For Good »
The 2.0L Engine
The new engine that will fit between the fenders of the Q50 will be a turbocharged 2.0L 4-cylinder sourced from Mercedes-Benz. The engine has already made its way to the Q50s sold in China. The engines in those models produce 211 hp and 236 lb-ft of torque. Infiniti might re-tune the engine to produce more favorable power and torque to suit U.S. tastes, however. That might entail turning up the boost pressure in addition to optimized fuel-mapping.
Last Chance for a V6 Q50?
There are some shoppers who pine for simple drivetrains. For them, normally-aspirated V6 engines are part of that equation. The throttle response and tip in found on models which feature these larger V6s are top-notch and fulfill most driver's needs for instantaneous torque. However, that attribute comes at the sacrifice of fuel efficiency. Either way, the good news is that shoppers will have an option, as Infiniti hasn't scrapped plans for their 3.7L V6 for good. It will still be available as a more premium option on the 2016 model.
Best Bet?
If you're in the market for an entry-level luxury sedan, the field is ripe with solid prospects. Some shoppers might not be able to wait since the 2016 Infiniti Q50 will go on sale in Winter 2016. More details will be announced at the North American International Auto Show in January 2016. If you can't wait, we'd comparison shop the current field highlighted above and try to decide.