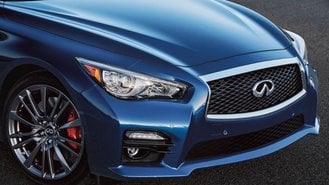 Although mid-year price increases aren't unusual, Infiniti Q50 and Q60 buyers may be in for a bit of a surprise this month. That's because the automaker has quietly raised base prices by up to $1,000.
According to a letter sent to dealers, 2.0t versions are the most affected. The Q50 PURE now starts at $36,195 including destination, $1,000 more than the old MSRP of $35,195. The Q60 is up by the same amount, now starting at $40,945.
3.0t LUXE styles have also gone up by $200. Other styles aren't affected, including the Hybrid and Red Sport. Unfortunately, order guides indicate shoppers won't be getting any new features as a result of the changes.
At $36,195, the least-expensive Q50 still undercuts the Lexus IS, which starts at $39,205. However, the Infiniti does ring in $300 higher than a BMW 320i, which starts at $35,895.
It's worth noting that prices for both the Lexus and BMW quickly rise with options. For example, adding power front seats to the 320i causes its price tag to balloon to $38,145.
Although it's more expensive, the IS comes standard with automatic emergency braking, something you can't get in the Q50 without upgrading to a $42,645 LUXE with ProASSIST.
Infiniti's changes come at the tail end of the 2018 model year, around the same time that the brand doubled unadvertised dealer cash incentives to as much as $6,000 on most Q50s.
What remains to be seen is whether or not the changes are merely a way to soften the blow of an even larger increase later this year when the 2019 version arrives at dealers.