With a base price of $30,945, the 2017 Infiniti QX30 has become an appealing choice in an increasingly crowded segment of entry-luxury cars. However, shoppers may be in store for a surprise when they get to the dealer.
As part of a mid-year revision, Infiniti has added push-button start at no extra charge. However, with a mix of inventory at dealers, it's close to impossible to tell the difference between the old and new versions.
Here's what you need to know.
Mid-Year Change
Even though the QX30 only began arriving last September, Infiniti has taken the rare step of making a change in standard features with the addition of push-button start as a no-cost feature.
Order guides show the changes went into effect as of November production. Although the Infiniti website already shows the feature, there hasn't been an official announcement.
In addition, prices for the new version are identical to the older model. The changes were confirmed for CarsDirect by Infiniti spokesperson Paige Presley today.
Based on our analysis, dealers currently possess a mix of both new and old inventory. So how do you tell the difference? The answer lies in the model codes.
How to Tell the Difference
Whenever automakers make changes in equipment, the odds are good that new model codes are issued for applicable styles. That happens to be the case here.
You can generally find the model code when looking at a particular listing on a dealer's site. If you see the old one, you're looking at a version with no push-button start.
| | | |
| --- | --- | --- |
| Trim Name | Old Model Code | New Model Code |
| Base FWD | 80217 | 85117 |
| Luxury FWD | 80317 | 85317 |
| Premium FWD | 80417 | 85517 |
| Sport FWD | 80517 | 85717 |
| Luxury AWD | 80017 | 85017 |
| Premium AWD | 80117 | 85217 |
Note: Availability varies by region, so be sure to contact your local dealer.
Mid-year changes are not unusual in the car-buying world. For example, Nissan added additional safety features and connectivity with Apple CarPlay on the 2017.5 Murano crossover earlier this year.
In a more extreme case, back in 2014 Toyota updated its popular Camry sedan with enhanced crash protection to pass strict IIHS overlap tests and dubbed the new version a 2014.5 model.
Which One Should You Buy?
If you're looking to get more for your money, opting for the newer version makes complete sense. Especially considering prices are completely unchanged. At least on the surface.
A deeper look reveals some hidden nuances. Infiniti doesn't advertise cash rebates in line with most luxury brands.
Instead, unadvertised incentives called dealer cash are used to enable dealers to provide better pricing. Similar tactics are used by brands like Mercedes-Benz.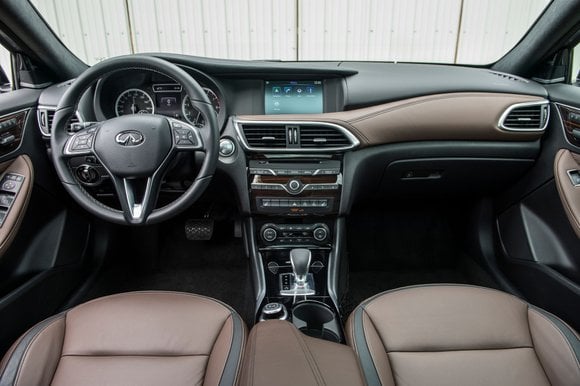 What most shoppers probably won't know is that the incentives on the older QX30 are larger than the new one. This may affect prices for customers looking to buy or to lease.
The QX30 actually ranks as one of the best luxury leases at the moment starting at $249 for 39 months with just $1,999 due at signing. With an effective cost of $300 per month, it's only $4 more expensive to lease than a Honda Accord EX sedan.
In conclusion, although both the new and old versions of the QX30 have the same sticker prices, you may end up getting a better deal on the old version. If push-button start isn't a priority and you're looking for the lowest possible price, you may end up happier with the older one.
In any case, be sure to check the model code or simply ask your dealer to confirm exactly what you'll be getting. The answer could save you the heartache of finding out later that you could have gotten an additional feature.