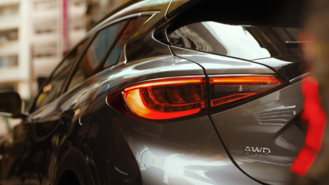 When Mercedes-Benz and Infiniti teamed up to make a subcompact crossover, it seemed like a great partnership. Unfortunately, it hasn't been great in terms of sales for Infiniti. And because of the lackluster figures, it doesn't look like the QX30 will make it past its first generation.

According to Motor Authority, Infiniti's president Christian Meunier said that the future looks bleak for the QX30 at the 2019 Detroit Auto Show. "(The QX30 is) not a very successful product," said Meunier. "We'll keep selling it for now … but this is not a product that has a future beyond its current life."

From a sales perspective, Meunier has a point. In 2018, Infiniti sold just 8,101 units of the QX30, which is down 42.5 percent from 2017 when the automaker sold 14,093 crossovers. Compare those figures to the QX50, which is a compact vehicle that sits right above the QX30, and you see the problem. In 2018, Infiniti sold 25,389 QX50 SUVs, which is much better than the 16,857 units it sold back in 2017.

The relationship between Infiniti and Mercedes-Benz began back in 2010, as both looked to share components to make their respective subcompact crossovers – the QX30 and GLA-Class. Nissan, as the outlet points out, invested roughly $300 million into a facility in Britain to help manufacture the vehicles. The plant in the U.K. also had some tooling courtesy of Mercedes.

The subcompact luxury crossover segment is continuing to grow, and the QX30 faced stiff competition from multiple brands. Top choices in the segment include the BMW X1, BMW X2, Volvo XC40, Cadillac XT4, and Lexus NX.