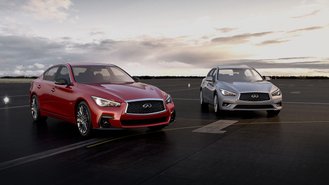 Nissan is recalling 14,192 Infiniti Q50 sedans and Q60 coupes because of faulty fuel pump software that could stall the engine.
The National Highway Traffic Safety Administration has said that the defective software could lead to an incorrect estimation of the amount of the fuel in the tank. This could cause the fuel level to get too low without any warning, potentially causing the engine to stall. Needless to say, such an event can be extremely dangerous, especially in dense traffic. Fortunately, no accidents, injuries, or deaths are being blamed on the flaw.
The recall includes four-cylinder Q50s from model years 2016 through 2018 and Q60s from model year 2017. Interestingly, this 2.0-liter, turbocharged four-cylinder is designed by Mercedes-Benz and built by Nissan at its plant in Tennessee.
Nissan will begin notifying Infiniti owners of the issue, with the recall officially kicking off August 21. The fix, meanwhile, is rather uncomplicated – the cars just need a free software update.