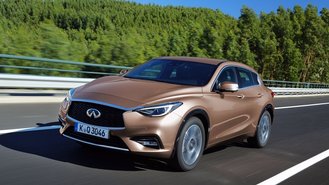 Nissan's Infiniti luxury brand has issued a recall affecting 17,507 units of the QX30. The recall involves the driver's airbag that can unexpectedly go off. Yikes. Needless to say, if you own a QX30, this is one of those recalls that you'll want to get remedied as soon as possible.
According to the National Highway Traffic Safety Administration, the recall affects 2017 and 2018 QX30 crossovers. The issue with the vehicles, as the NHTSA puts it, is down to "insufficient grounding of the steering components." Due to the insufficient grounding, an electrostatic discharge could occur, causing the clockspring to break, which could lead to the airbag accidentally being deployed.
Infiniti's recall follows a wide-ranging action by Mercedes-Benz, which recalled 495,000 vehicles in October for a similar problem. The German luxury giant builds the GLA-Class crossover that the QX30 is heavily based on.
Infiniti claims it's unaware of any injuries or accidents that occurred because of the issue and plans to send out a notice on the fix by December 18. The fix will see dealers add more grounding to the steering components at no cost. The automaker will reach out to owners, but QX30 drivers can also contact Infiniti's customer service line at 1-800-622-6200.